Things You'll Need
Safety glasses

Drill bit

3/8-inch drill

Blind rivets

Rivet gun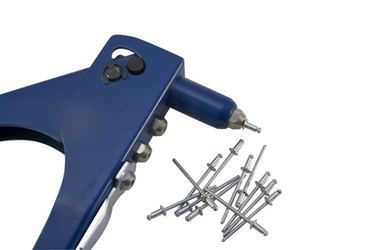 Mechanical fasteners connect multiple pieces of thin material. Blind rivets are the fastest vibration-free mechanical fastener you can use when connecting materials, especially thin metals. Installing blind rivets requires a hole correctly sized for the blind rivet and a tool designed to pull the mandrel rod into the hollow body of the rivet. If the hole size is not matched to the diameter of the rivet, it will easily pull from the fastened material, causing the connection to fail.
Step 1
Put on your safety glasses.
Step 2
Install the drill bit that matches the diameter of the blind rivet into the chuck of the 3/8-inch drill motor. For example, if you are installing 1/8 inch diameter blind rivets, you would need to install either a 1/8-inch drill bit or a 9/64-inch drill bit into the drill motor. Increasing the size of the drill bit by 1/64 inch will allow you to install the rivet easier and still allow the rivet to connect the pieces of material. Drill through the materials to be riveted.
Step 3
Slide the mandrel rod of the blind rivet into the opening of the rivet gun.
Step 4
Push the body of the blind rivet into the hole you drilled through the material in Step 2.
Step 5
Pull the handles of the rivet gun together, release the handles and repeat until the mandrel "pops" free from the body of the blind rivet.
Step 6
Release the handles of the rivet gun and tilt the backside of the rivet gun toward the ground to release the mandrel from the rivet gun.