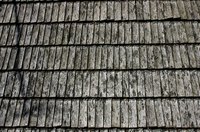 Roof shingles come in a variety of forms, including laminated or "architectural" shingles, so called because of the distinctive look they give a roof; fiberglass or composite shingles, which combine fiberglass and asphalt; cedar shingles, which are treated to be fire-resistant; and metal and slate shingles. Within each category you have a choice of multiple brands. The Roofery says the best replacements for discolored or broken shingles are matching shingles of the same color and brand; to find the right replacements, you have to identify the brand.
Check the purchase or repair documents for the roof. You may have receipts, warranties, bills of sales, or brochures that identify the brand. If there were any shingles left over when the roof was installed, see if the package provides information. Roofery says if you can get the lot number as well, that will enable an even more precise match.
Contact the roofer or home builder if you don't have any records of your own that provide an answer. The people who put the roof on your house may use only one or two specific brands; even if they don't, it's possible they have files identifying the shingles they used, even to the lot number.
Take a sample shingle to Home Depot or another home-improvement store if you can't find anything on file. Ask the staff if they can match the shingle to the brands they have in stock. Alternatively, take the shingle to a local roofer, or ask a representative to stop by and see if he can identify the brand.