Things You'll Need
Newspapers

Fabric pencil

Acrylic textile medium

Acrylic paints

Paintbrush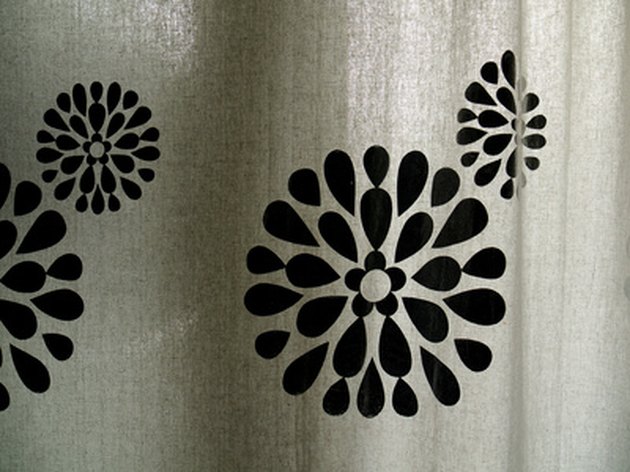 Paint may sound like an unlikely substance to decorate your curtains with, but it can be used to create custom designs or a burst of color. Many of the fabric paints found in fabric stores are textured and create a puffy, 3-D appearance on fabric. Instead of purchasing these fabric paints, look for a bottle of acrylic textile medium in art supply or craft stores. This medium transforms any acrylic paint into a fabric-safe paint without the puffy texture.
Step 1
Wash the curtains in your washing machine with no detergent or fabric softeners of any sort. This is to remove any detergent or fabric softener residue that may be left behind on the curtains from previous washing. Hang the curtains up to air-dry, or dry them on low heat in your dryer after washing. If your curtains are dry-clean only, skip this step.
Step 2
Lay the curtains flat on a work surface covered with newspapers.
Step 3
Draw your design onto the curtains using a fabric pencil.
Step 4
Mix 1 part acrylic textile medium into 2 parts white or black acrylic paint. Use white fabric paint for light-colored designs and black fabric paint for dark designs.
Step 5
Paint the entire design with a thin layer of the black or white prepared paint. This paint will serve as a primer on your curtains and ensure that the top coat of paint adheres evenly to the curtains.
Step 6
Mix additional colors of acrylic paints with the textile medium using the same 2 to 1 ratio you used for the primer. Use these paints to fill in your design and add color to your curtains.
Step 7
Let the paint dry completely before you hang the curtains.
Tip
Gently wipe away any visible fabric pencil marks with a damp rag after the paint has dried.