Things You'll Need
Washing machine

Laundry detergent

Clothesline (optional)

Clothespins (optional)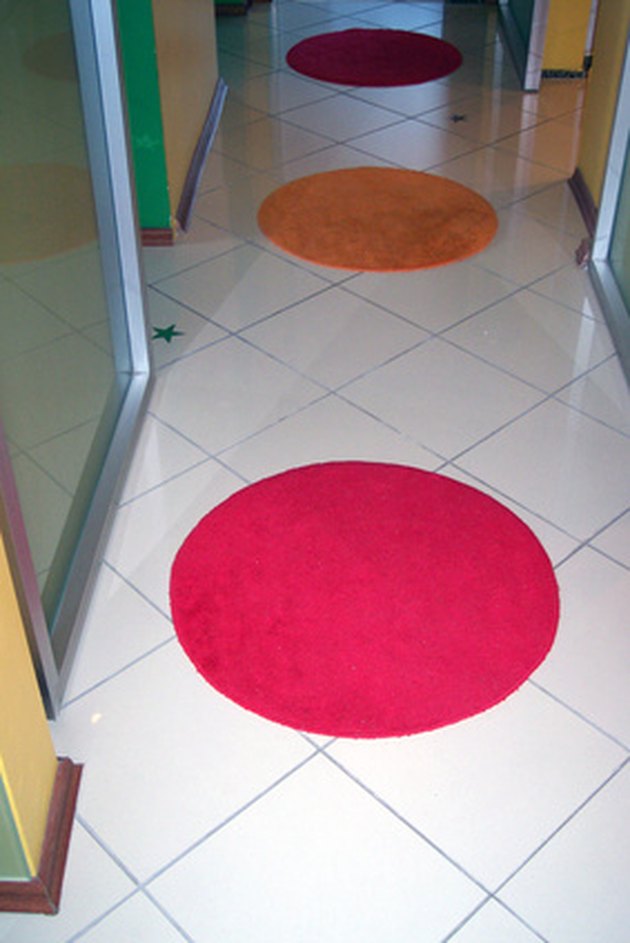 Bath rugs provide a warm and soft floor covering over bathroom floors, making your time in the bathroom more pleasant. As you use your bath rugs daily, walking on them, dripping on them and soiling them, they become matted and dirty. Wash most bath rugs in the washing machine and dry them in the dryer to bring back the fluffy softness and sweet-smelling clean rugs you enjoy seeing and using in the bathroom.
Step 1
Consult the material tag and the care instructions on the bath rugs to see what materials the rugs contain, and find any special care instructions if possible. In the absence of specific care instructions, proceed with general washing instructions.
Step 2
Lift the bath rugs from the floor, and shake them to remove any surface dirt and soil.
Step 3
Place the bath rugs into the washing machine. Wash the bath rugs alone for best results. Set the water temperature to warm (approximately 90 degrees F), and use a basic wash cycle. Add laundry detergent to the washing machine, and start the wash cycle. Allow the washing machine to advance through the entire cycle.
Step 4
Remove the bath rugs from the washing machine immediately after they finish spinning, and shake each one lightly as you take it out of the washing machine.
Step 5
Place the bath rugs into the dryer, and set the heat to low. Start the dryer, and run it until the bath rugs dry completely. Remove the bath rugs when they are dry, and place them back on the bathroom floor.
Tip
Another drying alternative is to hang the bath rugs from a clothesline, which is a useful alternative if you worry about the backing of your bath rugs. Although most rubber backings are safe to dry at low temperatures, over time you may notice the backing begin to deteriorate from machine drying. If your rugs have stains, pretreat the stains with an all-purpose pretreating spray prior to washing them in the washing machine. Assess the stains after washing, and only dry the rugs in the dryer if the stains lift. If your bath rugs are not machine washable, surface wash them with a mild laundry detergent only. Work a small amount of detergent into surface stains with an absorbent cloth, and rinse the soap out with another damp cloth. Line dry the rugs.