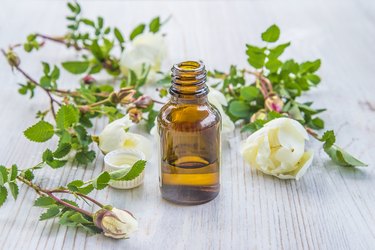 Bath and Body Works Wallflower plugs are similar to plug-in air fresheners and smell just as lovely as the store's other scented products. You plug Wallflower diffusers into outlets, and the diffuser distributes the fragrances into the air. Some of the more popular scents are lavender vanilla, crisp morning air and berry waffle cone. You can buy scent refills from the Bath and Body Works website, but you can also make your own.
There are a few ways to refill a Wallflower, and one of the better-known ways is the Airwick Wallflower refill hack. Get an Air Wick Essential Mist Diffuser and install the batteries. Pull out the Air Wick bulb and push in your favorite Wallflower one to change it to a Wallflower refill. It might not fight in tightly but works just as well.
You can also refill Wallflowers with essential oils. Some people prefer using unscented or other essential oils that don't have strong scents, but you can choose whatever you like. Start by getting some of your chosen essential oil and measuring it.
How to Make Oil Refills for Wallflowers
Things You'll Need
Screwdriver


Carrier oil

Essential oil

Measuring cup

Wallflower
Step 1: Find an Essential Oil
Measure 2 ounces of the essential oil you'd like to use.
Step 2: Pull out the Bulb
Remove the Wallflower from its outlet. Pull out the existing Wallflower bulb.
Step 3: Remove the Wick
Hold the Wallflower oil bulb with its wick pointed upward and place a screwdriver under the plastic covering around the wick. Slowly work the screwdriver around to the top of the receptacle, lifting it carefully until it pops out.
Step 4: Take Off the Receptacle's Top
Slowly work the screwdriver around to the top of the receptacle, lifting it carefully until it pops out.
Step 5: Loosen the Wick
Pull the wick to loosen it but do not take it out of the plastic part; it needs to stay attached.
Step 6: Add Oils
Pour carrier oil, such as fractionated coconut or sweet almost oil, into the bulb, making sure not to fill it to the brim. Now, you can add around 10 drops of the essential oil into the bulb. Pop the plastic tip and attached wick back into the bulb and press gently until it clicks.
Step 7: Mix the Oils and Plug Back In
Swirl it to mix the oils and plug the Wallflower back into the outlet.
Fragrance Oils and Essential Oils
You can easily refill Wallflowers with essential oils and swap out Wallflower fragrances with essential oils. Both have similar properties, and you can use many of them in diffusers too. You'll have to read the directions on your diffuser first since there are so many kinds out there. For example, humidifying diffusers need extra liquid to run correctly, so the scent will be overpowering unless you dilute your essential or fragrance oil with a room spray base.
You can also buy fragrance refills for your Wallflowers, and they are sold individually and in variety packs. As for essential oils, some enthusiasts claim that many of them have health and wellness benefits. Top picks include peppermint, lavender, tea tree, jasmine, patchouli, chamomile and bergamot.
Heat diffusers are less complicated to refill. These diffusers have trays that are warmed by tealights or lamps. You simply place oil in the tray, and as it evaporates, the room becomes scented. If you want to change the scent or add more oil, you can add more to the tray.
Reed diffusers have wooden sticks that distribute fragrance. Place them in the oils and those oils will soak into the sticks and travel up to disperse their scents. You can switch the oil, but you'll want to use different reeds with different scents to get the best results.