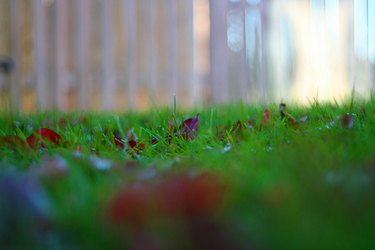 When you turn the key on your John Deere 318 lawn tractor and nothing happens, you will have to diagnose the problem so you can get back to mowing as soon as possible. If the battery is fully charged and the starter and solenoid are ok, then you will have to replace the ignition switch. Ignition switches can occasionally short out and not work.
Step 1
Shut off the John Deer lawn tractor and remove the key from the ignition.
Step 2
Flip up the seat and disconnect the positive cable from the battery to prevent the mower from accidentally starting as you work on it. Use the pliers to unscrew the bolt and nut holding the clamp on.
Step 3
Open the hood on the lawn tractor. Look at the underneath side of the dashboard where the back of the ignition switch it located.
Step 4
Pull the electrical wires connected to the tabs on the back of the ignition switch off with your hand. Take note of which color was on which tab.
Step 5
Open the pliers up wide and unscrew the retainer nut holding the ignition switch into the dashboard. Pull the ignition switch out from the top side after removing the nut.
Step 6
Slide the new ignition switch into the dashboard. Tighten the retainer nut back on under the dashboard.
Step 7
Push the electrical wire connectors back on the correct tabs on the new ignition switch.
Step 8
Reconnect the positive battery cable to the battery.