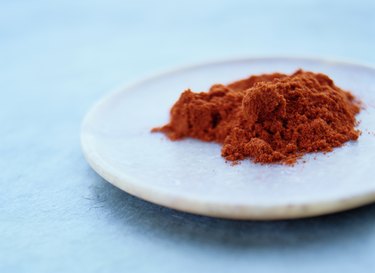 Dog owners and people whose neighbors are dog owners often run into problems when these pets damage the lawn by digging and running around on the grass and dirt. When they urinate on the grass often, it can cause significant and unsightly patches of yellow grass. Dog poop can be just as bad and a real mess to clean up. Are there safe ways to keep pets away without hurting them or making the problem worse?
Believe it or not, urine contains many of the same elements that grass fertilizer contains. Both contain high concentrations of nutrients that grass cannot handle. If you spilled a large amount of fertilizer in one spot on the lawn, you'd get the same kind of yellow patch. The problem with dog urine is urea, which is a kind of organic nitrogen that affects the grass. Many fertilizers use urea commercially to provide nutrients to the soil.
Urine also has a lot of phosphorous and potassium, which is found in NPK fertilizer. Dog urine also has salts that are harmful to certain plants. Most kinds of lawn grass will be OK with a bit of dog urine, mainly when the dogs are small or do not keep returning to the same spots. When dogs are larger and it gets really hot outside, the urine can lead to root burn, which kills grass.
Does Cayenne Pepper Repel Dogs?
Cayenne pepper can repel dogs, but it might not be the best choice. Cayenne pepper contains a lot of the chemical capsaicin, which is also used to repel insects and rodents; many self-defense sprays use it as an active ingredient too. Some homeowners mix a 1:10 solution of this liquid pepper with water and then spray it on plants or their lawn. Although it won't hurt dogs when swallowed, it can be pretty irritating to their nose, eyes and genitals.
Another choice is to spray vinegar or ammonia onto the lawn. Neither should ever be sprayed right onto plants, though. You can make a 50:50 solution of either with water and spray it in strips onto the lawn or on the perimeter. Dogs hate the smell, but this method can damage your grass if you aren't careful. They also dislike the smell of citrus, olive oil and almond oil.
Commercial Dog Repellents
Dog-repellent products contain ingredients that smell unpleasant to dogs. When choosing these, avoid ones that contain chemicals or anything that might be toxic to animals or humans. Natural ingredients are safest and include citrus scents, enzyme destroyers and natural herbs. They are usually sold in spray bottles or granular form. Read the directions on the manufacturer's label and see how to apply them. You may have to do it repeatedly after it rains or until the dog learns not to go to that spot.
There are also ultrasonic pet deterrents that can be hung from trees, walls or patios or stuck into the ground. Some are waterproof and solarproof and are designed to blend in with your landscaping. You can find ones that emit high-pitched frequencies dogs hate plus flashing LED lights. Others have sounds like bird predator calls and even fake gunshots. A 360-degree motion detector is an excellent feature to look for on these kinds of pet deterrents.