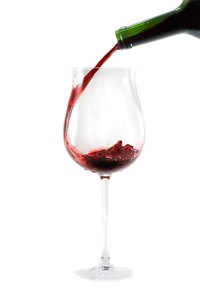 Red wine stains are challenging to remove. Keep a few basic household items on hand, such as club soda or salt, to quickly clean up the stain before it has a chance to set and you may be able to prevent permanent staining. Stubborn stains can be removed with the following technique.
Things You'll Need
Paper towels
Clean terrycloth towels
Spray bottle
Water
Dishwashing liquid such as Dawn
3 percent hydrogen peroxide
Measuring cups and spoons
Blot as much of the red wine as possible with paper towels.
Fill a spray bottle with a solution made of 2/3 water and 1/3 white vinegar and saturate the area.
Blot to remove excess moisture.
Apply diluted detergent solution to the stain (mix 1/4 tsp. of detergent to 1 quart of water). Work the solution into the stain with a clean terrycloth or paper towel. Blot the red wine stain from the outer edges inward. Continue until the stain is removed. Remove detergent residue with a damp cloth.
If the stain is not completely gone, apply a 3 percent peroxide solution and let it sit for an hour.
If the stain is gone, cover the area with several paper towels and weight with a brick or other heavy object.