Things You'll Need
Large loofah sponge

3 drinking glasses

Bowl

Water

Plastic wrap

6 cups goats milk

12 oz. lye

Stainless steel pan

2 cups oatmeal

1/2 cup honey

4 cups lard

Stainless steel spoon

Cutting board

Knife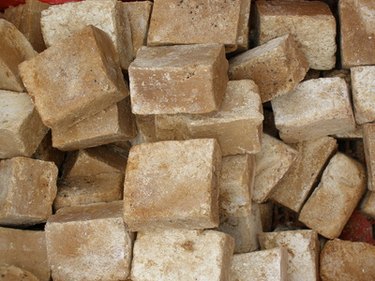 Commercial soaps contain additives and chemicals that can irritate sensitive skin. Soaps made with various types of milks are excellent moisturizers, and oatmeal and loofahs help to scrub away dead and flaking skin by exfoliating. Honey, another ingredient commonly used in natural soaps, adds a naturally sweet fragrance. Make your own soaps to give away as gifts or check local business codes and start your own soap retail store.
Step 1
Cut the large loofah sponge into three equal sections. Each section should be the width and height of the drinking glasses.
Step 2
Place the loofah pieces in a bowl. Fill the bowl with water and allow them to soak. Remove the loofah pieces once they are fully expanded.
Step 3
Set each loofah piece on plastic wrap. Do not cover the loofah pieces with the plastic wrap. You will use the plastic wrap to place the loofah pieces into the glasses.
Step 4
Hold the plastic wrap on both ends. Place the loofah into the drinking glasses with the plastic wrap. Leave the plastic wrap in the glass, and drape any excess plastic over the edge of the glass. The plastic wrap prevents the soap from sticking inside the glass.
Step 5
Combine 6 cups goats milk with 12 oz. lye. Place the ingredients in a stainless steel—do not use aluminum—pan. Stir in 2 cups of oatmeal and 1/2 cup honey and mix well.
Step 6
Place 4 cups of lard in a dutch oven. Set the temperature to low and heat the lard. Do not allow it to reach 85 degrees.
Step 7
Add the lard to the milk and lye mixture slowly. Stir with a stainless steel spoon. Add your preferred soap dyes and essential oils. Stir for 15 minutes, then allow the soap mixture to set for 15 minutes. Mix the soap for 5 minutes to thicken.
Step 8
Pour the soap into the drinking glasses. Allow the soap to set for two days in the glasses.
Step 9
Lift the soap out of the glasses by pulling on the plastic wrap carefully. Place the soap on a cutting board, and cut the soap brick into round slices of your preferred thickness.
Tip
Depending on the size of your drinking glasses, you may need to double to recipe to make enough soap in one batch.
Warning
Always use stainless steel when working with lye, because it chemically reacts to some materials.