Things You'll Need
Logs

Chain saw

Circular saw

Hand saw

Hammer

Joist hangers

2-inch wood screws

2-inch spiral shank nails

2 x 8 inch pressure treated lumber

5/8-inch pressure treated plywood

Nails

Tar paper or plastic sheeting

Roof material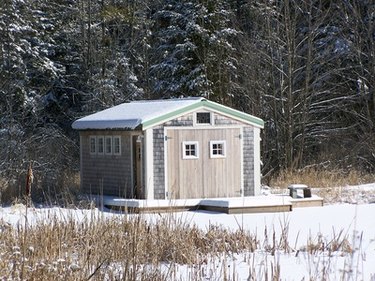 A shed is a roughly built structure used for storage. A log shed can be a handy addition for storing garden supplies, lumber or recreational equipment. If you use logs you have harvested yourself, the cost of building a shed is fairly low. Choose a simple four-sided design. The fewer walls the shed has, the easier it is to build. It is fairly simple for the do-it-yourself builder to quickly craft a durable and dry shed.
Step 1
Choose a location for your shed and level the building site. Choose an elevated spot that will provide drainage. Sketch out a rough plan for your shed design to determine the amount of building materials you will require. Sheds used for wood storage require ventilation and access. Plan where you will locate the door and windows. Locate and harvest logs from standing dead timber.
Step 2
Build a basic foundation for the shed. A concrete slab may be poured, or you can set the shed flooring on a foundation constructed from four-way deck blocks, concrete blocks or stones. If you are building a lean-to shed that is supported by another sturdy structure, railroad ties or heavy planks can be used for constructing the foundation. A simple wood shed will not require a foundation or floor. To determine the size of wood shed you wish to build, determine how many cords of wood you wish to store. A cord of wood will occupy a space 4 x 4 x 8 feet.
Step 3
Build the floor frame joists from 2 x 8 foot boards. Nail the joists together using joist hangers and 2-inch wood screws. Set the floor frame squarely on the foundation. Cover the floor frame with 5/8-inch pressure treated plywood. Attach the plywood with wood screws, set no farther than 8 inches apart. (If a concrete slab foundation is poured, a shed floor is not required.)
Step 4
Stack logs using the hand-scribed method of fitting the bottom of a log to conform to the shape of the top of the log below. Use a scribing tool to craft the joints. (A simple wood shed can be built from split logs attached to log posts set in buckets of concrete.)
Step 5
Build the roof frame with joists built from 2 x 8 pressure treated lumber. Nail the joists together with joist hangers and 2-inch spiral shank nails. Cover the roof frame with 5/8-inch pressure treated plywood. Cover the plywood with tar paper or plastic sheeting. Add a metal roof. The roof may also be constructed from wood or composition shingles.
Step 6
Hang a door and install windows. Apply weatherproof caulking around the windows and door frame.
Warning
Wear eye and ear protection when working with power tools. Follow all safety procedures when cutting down trees. Logging is dangerous work. Be careful.