Things You'll Need
Wire brush

Pint jar

Baking soda

Water

Rag

Fuses

Spark plug wrench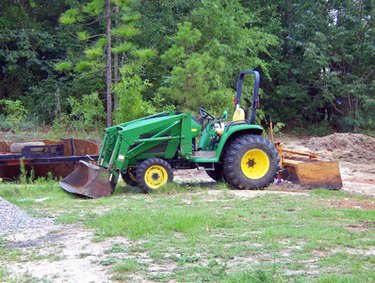 Not many lawn care frustrations are greater than the moment when you turn the key on your John Deere 425 Garden Tractor and nothing happens. Before you blow your cool, take a few minutes to troubleshoot the quick and obvious possible problems that could be crippling your machine. Chances are that your time spent diagnosing the problem will be profitable, saving money and time that would be expended at the local small motor repair shop.
Step 1
Push the brake pedal down firmly, then try to start the tractor. It will not start if the brake pedal is not pressed down.
Step 2
Turn off the PTO switch located on the left side of the dashboard. This is for engaging the power take-off. The tractor will not start if the PTO switch is on. Try starting the machine.
Step 3
Check the battery connections, removing any corrosion with a wire brush. Mix ½ tbsp. of baking soda in 1 pt. of water, and drip the solution on the battery terminals to remove corrosion. Let it stand for 5 minutes, then wipe dry with a rag. Try starting the tractor.
Step 4
Raise the hood. Pull off the plastic fuse box cover on the right side. Check for blown fuses. Replace blown fuses with new fuses. Replace the fuse cover, and close the hood. Try starting the tractor.
Step 5
Raise the hood. Check that both spark plug wires are securely attached to the spark plugs and that the plugs do not wiggle. If they wiggle, remove the spark plug wires and tighten the spark plugs with a spark plug wrench. Replace the spark plug wires. Close the hood, and try starting the tractor.