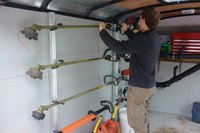 The fuel line in a Homelite gas trimmer connects the fuel tank to the carburetor. This flimsy plastic line will degrade over time and needs to be replaced seasonally. Also, if the trimmer has been improperly stored gas will dry out in the line, which can reduce the amount of fuel in the carburetor. This can lead to other problems with the seals and gaskets in the carburetor, which are much more difficult and costly to replace than cheap fuel line. Whenever you replace the fuel line, you should also replace the fuel filter.
Things You'll Need
Needle nose pliers
Scissors
Metal wire
New fuel filter
Drain all of the gas from the tank. Start the trimmer (if possible) and let it use up the last of the fuel in the lines.
Remove the air filter cover or cylinder cover (depending on model) to gain access to the carburetor. Disconnect the fuel line from the carburetor with the needle nose pliers.
Reach into the gas tank with the needle nose pliers and pull out the fuel filter and old fuel line. Throw both of these away.
Cut off 6 to 8 inches of new fuel line. Cut one end in a 45-degree taper. Insert the metal wire into the other end.
Push the tapered end into the hole at the bottom of the fuel tank using the metal hook for leverage. Once you get it most of the way through, grab and pull it towards the carburetor with the needle nose pliers. Don't connect it to the carburetor yet.
Take out the metal wire and cut off any excess line inside the tank. There should be about 2 inches of line left in the tank. Pull the fuel line up into the tank a little so you can insert the tip of the fuel filter into the fuel line.
Pull the line towards the carburetor and connect it to the same spot you removed it from.