Things You'll Need
Fabric

Lining

Tape measure

Straight edge

Scissors

Sewing machine

Iron

Needle and thread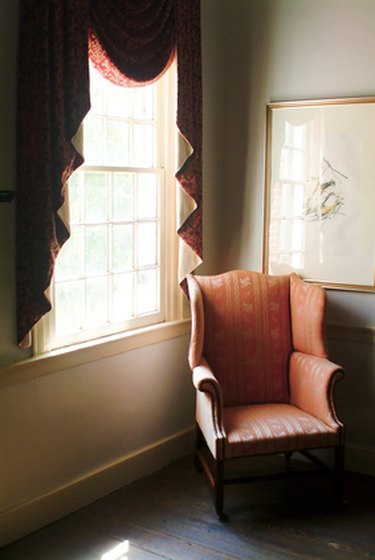 Fishtail curtains are actually lined swags with the jabot incorporated by means of angling the ends of the swag to suggest a more casual jabot. These curtains are often hung using peg type hold backs that are mounted above and at the sides of the window trim moldings. Making these curtains is easy to do and the treatment makes a nice addition to the semi-formality of bedrooms and great rooms.
Step 1
Measure the width of your window and the length of your drop. Your drop is how far from the hold back point you want the sides to fall. This is typically 1/2 to 2/3 the length of the actual window. If the width of your window is 30 inches and your desired drop is 35 inches: 30 + 35 + 35 + 4 = 104 inches. You add the extra 4 inches for seams.
Step 2
Cut prewashed and ironed fabric and lining 25 inches by 104 inches (per our example). Fold the length of your fabric in half (to 25 inches by 52 inches).
Step 3
Measure 16 inches from one corner (NOT the fold) and draw a straight line from that mark to the other corner (NOT the fold). Cut along this line. When unfolded, this makes a trapezoidal shape.
Step 4
Place your fabrics face sides together. Start in the middle of the longest side and sew a 1/2-inch seam all the way around the perimeter of the curtain, until you are 3 inches from where you started. Leave a 3-inch opening. Clip your corners and pull your fabric through the 3-inch opening until it is right side out.
Step 5
Hand sew your 3-inch opening closed with needle and thread. Iron your curtain. Pleat your curtain by laying the length of the curtain face down on a flat surface. Start with your shortest long side and fold it over the liner 2 to 3 inches (the width of pleat you want). Fold it under, picking up the liner with the fold. Fold it over and under until all your pleats are gathered.
Step 6
Drape the fishtail curtain over your hold back pegs so the long points of the curtain are against the wall and the shorter jabot sides are toward the window.
Tip
Iron the pleats if you want your curtain to look crisp.