Things You'll Need
Mineral spirits

Clean rags

Chemical stripper

Paintbrush

Paint scraper

Sandpaper of varying grits

Gloves

Wood stain

Staining sponges

Polyurethane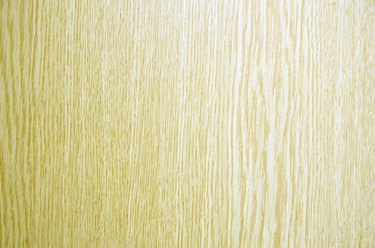 Many older homes boast of beautiful wood trim. However, in many cases this trim is worn or discolored. Restaining wood trim around windows and doors can rejuvenate your home and enhance the beauty and history of its architectural details. Even newer homes can benefit from restained wood trim. Homeowners with the proper information can accomplish this task by themselves.
Step 1
Decide whether you want to remove the wood trim for the project. Removing the wood trim will make the project easier and will keep harmful chemicals and dust out of your living space. However, wood trim or casings may not easily be removed. In addition, some wood trims can be damaged if removed. Before starting the project decide where you want to do the work. A garage workshop is a perfect place to restain wood trim if you decide to remove it from the wall. If you do not remove the wood trim, take extra precautions like opening windows or blocking off ventilation ducts.
Step 2
Use a clean rag and mineral spirits to clean the wood trim. The mineral spirits will help to remove any dirt or grease that may have accumulated on the wooden trim over the years.
Step 3
Apply a chemical stripper with a paintbrush. The stripper will save you time and effort by removing the polyurethane for you. Follow the directions on the chemical stripper and wipe away with a rag. The gentle use of a paint scraper can also help to remove some of the polyurethane after the chemical stripper has been applied.
Step 4
Sand the wood trim with varying grits of sandpaper. Starting with a lower-grit sandpaper, sand the wood trim smooth, and end with fine-grit sandpaper. Use a damp rag to wipe away the dust from the trim.
Step 5
Apply wood stain to the wood trim. Use staining sponges to apply the stain. Allow the stain to dry per the manufacturer directions.
Step 6
Apply two or three coats of polyurethane with a paintbrush. Between each coat, allow the polyurethane to dry and slightly sand and wipe down the trim before applying the next coat.
Tip
Protect your hands with work gloves when applying the stain.