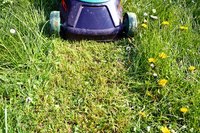 When you're trying to get your riding mower started but the Briggs & Stratton engine won't start, you will have to troubleshoot the engine to diagnose the problem. Briggs & Stratton engines are fairly simple to repair. Key things that make the engine run are gas, air and a spark, so you'll need to make sure the engine has all three for it to start.
Things You'll Need
Flathead screwdriver
Bucket
Carb cleaner
Wrench set
Air filter
Spark plug
Socket set
Ft-lb torque wrench
Follow the gas line from under the gas tank to the side of the carburetor. Unscrew the clamp holding the gas line onto the carburetor nozzle with a flathead screwdriver. Pull the gas line off, and direct it into a bucket so old gas can drain out.
Spray carb cleaner spray into the side carburetor nozzle for 10 seconds. Clamp the gas line back onto the carburetor nozzle.
Remove the bolt from the base of the carburetor with the proper size wrench. Pull the fuel bowl off the base, and pour gummy gas in the bowl into the bucket. Spray carb cleaner on the bowl and on the valve above the bowl. Replace the bowl, and tighten the bolt.
Unscrew the plastic wing nut holding the cover over the air filter on the top of the engine. Pull off the cover, and replace the air filter if it's dirty. Replace the air filter cover.
Pull the cap off the spark plug, and unscrew the spark plug from the front of the Briggs & Stratton engine.
Screw a new spark plug into the hole with your fingers. Fit a proper size socket on the spark plug, and tighten it with the ft-lb torque wrench to 15 ft-lb. Replace the cap on the spark plug.