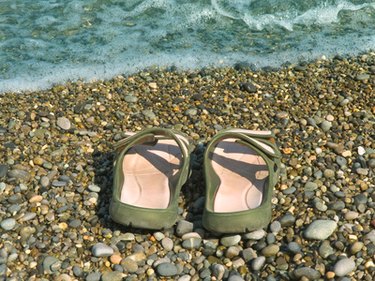 Adidas is one of the most popular footwear brands on the planet, and people can be seen wearing the brand's beloved sandals everywhere in the summertime. This footwear can last for a long time if they are given the right TLC. In order to keep them in the best shape possible, look for the kind of material from which they are made and follow the manufacturer's directions.
How to Clean Adidas Slides
Adidas slides are made from polyurethane uppers and ethylene-vinyl acetate footbeds. Some footbeds are also made from cork, with textured leather tops. This means that the cleaning methods for Adidas slides will depend on the type of sandal you have. Like other sandals, Adidas slides can develop odors because they are commonly worn with bare feet in hot weather.
Adidas sandals that are made only from rubber and plastic can be run under water to loosen major dirt. Then, put them into a large bucket (or a sink) and pour in liquid dishwashing detergent. Fill up the sink or bucket with hot water and let the sandals soak for 15 minutes. Take them out and use a soft cloth or paper towels to wipe and dry them.
Athletic slides can also be cleaned with rubbing alcohol, white vinegar or an all-purpose cleaning spray. Clorox wipes or a similar disinfecting wipe will also work. All of these methods should keep the sandals smelling clean.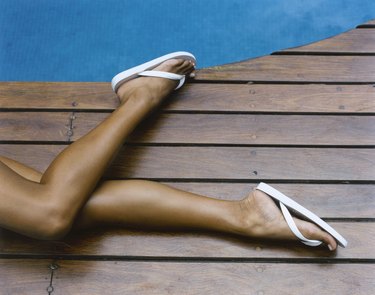 If the sandals have Velcro strap closures or fit foam beds, they should not be put into water. Use a wet cloth and clean off the straps, footbeds and Velcro. You may also use a toothbrush to clean out dirt from the rubber and cork soles. Cloudfoam footbeds are also not waterproof and should be spot cleaned.
Cleaning Other Adidas Materials
Many people clean flip-flops in the washing machine. This may be an appropriate method for shoes that are thin and made only from rubber or plastic. However, larger sandals are often too bulky and can damage the washing machine drum. If the sandals are made with knit fabric, that part can be washed with cold water, mild soap and a soft brush.
If the top or entire sandal is made from leather, clean them from time to time to keep discoloration and odors under control. For finished leather, add a drop or two of liquid hand soap onto a damp cloth and rub until it is bubbly. Work this gently over and into the leather. Use a second clean cloth to wipe off the soap and then use a microfiber towel to dry it.
You can also use leather soap to clean leather sandals, especially unfinished leather. Never immerse them in water, as this can very well make the leather crack and shrink. If your sandals still smell, you can use vinegar to clean them no matter the material. Add a teaspoon of vinegar into a cup of warm water. Dip in a cloth and rub it on the footbed and interior of the sandal. This will kill the bacteria responsible for the smell on your shoes.