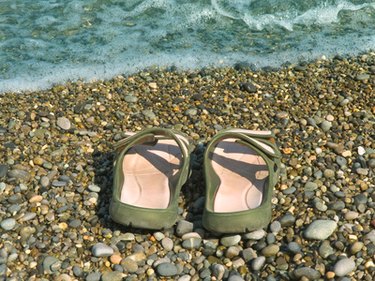 If your Adidas sandals have gotten smelly and dirty, you can turn it all around in no time. It is easy to clean these low-maintenance shoes, because they are mostly rubber and plastic. You may even be able to clean the scuff marks off those signature white stripes. You can have your sandals looking like new.
Things You'll Need
Sink with running water

Large container or bucket

Scrub brush (any)

Concentrated dish-washing detergent

Pot

Stove

Gloves (optional)

Magic eraser (any)

Towel
Step 1
Run your shoes under warm water just to get any mud or dirt off before getting started with the deep cleaning. Gather your materials and keep them close by.
Step 2
Place your shoes in a large container so they are lying flat (horizontally), and squeeze out a five-count pour over the shoes. Use quality concentrated dish soap.
Step 3
Heat some water till it just reaches the boiling point. Do not let it come to a full boil, or you could melt your shoes. Pour the water over the shoes until they are just covered.
Step 4
Put your gloves on, and grab your scrub brush. Stir the hot water into the soap and dip the scrubber. Scrub back and forth with medium to heavy pressure, getting the bristles of the brush into the crevices of the shoes.
Step 5
When the shoes have been scrubbed from top to bottom, rinse off the soap in warm running water. Do this with both shoes, and place them on a towel. Dip the magic eraser into some warm water, and use it to remove scuff marks. Press the magic eraser into the scuff marks as you would with a pencil eraser.
Step 6
Rinse and dry. Now your shoes are ready to wear.
Tip
Let the sandals dry overnight. It is difficult to remove all of the water from the intricate crevices.