Things You'll Need
Wood cleaner

Nylon scrub brush

Belt or disc sander

80- and 120-grit sandpaper

Wood brightener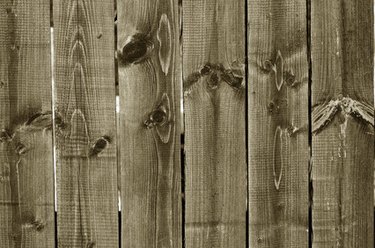 Cedar siding is a durable, attractive building material that has been used widely across the United States. Cedar wood is lightweight, stable and relatively easy to work with. It can be sanded to remove surface defects and prepare the wood for painting or staining. Rougher sandpaper can be used to remove material, and finer sandpaper for smoothing the wood surface and preparing for finishing. Sanded cedar wood should be treated with wood brightener to condition the wood for finishing.
Step 1
Clean the cedar wood with wood cleaner. Wood cleaner is generally sold in concentrated form. Follow the manufacturer's instructions regarding the proper dilution for cleaning cedar wood. Mix the cleaner and apply it to wet cedar siding.
Step 2
Scrub the wood vigorously with a nylon scrub brush. Then rinse the siding thoroughly with water. Allow the wood to dry for at least 24 hours prior to sanding.
Step 3
Select rough sandpaper for removing damaged wood fiber. A belt or disc sander fitted with 80-grit sandpaper will take off high quantities of surface material.
Step 4
Start in one corner and sand along in the direction of the wood grain. Move relatively quickly to avoid removing too much wood fiber. The 80-grit sandpaper will leave the sanded surface relatively rough and scored with fine grooves.
Step 5
Fit your sander with 120-grit sandpaper for finishing. Go back over the cedar wood with the sander to smooth the surface.
Step 6
After sanding, use a hose to rinse all the generated sawdust from the siding.
Step 7
Mix and apply wood brightener to wet wood. Allow the wood brightener to sit on the cedar siding for 30 to 45 minutes. Then rinse the siding thoroughly with water. Do not scrub the siding during the wood brightening process.
Step 8
Allow the wood to dry for at least 24 hours prior to applying paint or stain.
Warning
Wood cleaner and wood brightener contain chemicals that can be harmful to skin and eyes. Wear proper protection, including rubber gloves and eyewear, when working with these products.
Sanding cedar wood can generate dust that is harmful if inhaled. Wear a NIOSH-approved ventilating mask when sanding cedar wood.