Things You'll Need
Tape measure

Box knife

Pencil

Drill

1/4-inch drill bit

Pop-rivet gun

Pop-rivets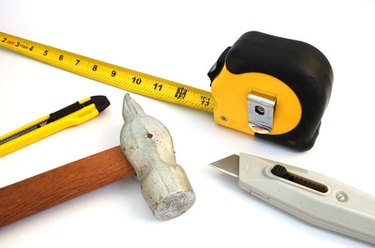 Suspended ceilings are often installed in a basement, where there are many overhead obstacles to work around or conceal. In certain situations, all duct work will not be able to be concealed and must be incorporated into the ceiling design. When this happens, it will be necessary to install the ceiling tiles around the duct work.
Step 1
Install your main grid as normal. Begin with the exterior walls, installing the "L" bracket at the proper height. Install the "L" brackets on all exterior walls before beginning on the interior portion of the grid work. Use a tape measure and level to be certain the brackets remain level around the entire perimeter of the room.
Step 2
Build the interior grid-work using the main "T" brackets and the cross "T" brackets. Begin by inserting your anchors in the overhead ceiling and then proceed to install the main "T" brackets, suspending them with wire hangers attached to the overhead anchor points. Install all cross "T" brackets to form your final grid of either 2 feet by 4 feet or 2 feet square.
Step 3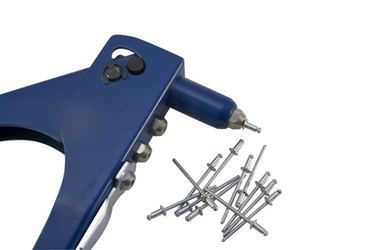 Measure the proper distance from the floor and mark the duct work the same way as you did for the "L" brackets installed on the exterior walls. Cut the "L" bracket to the appropriate length to fit all four sides of the duct work. Drill 1/4-inch holes approximately ever 6 inches along the "L" bracket. Use pop-rivets to secure the "L" bracket to the duct work.
Step 4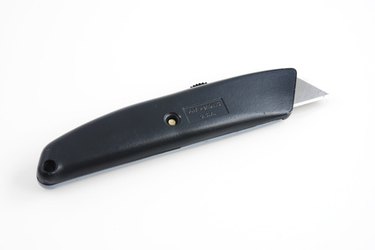 Measure the opening around the duct work. Transfer these measurements to a ceiling tile panel. Use a box knife to carefully custom-cut the tile to fit the hole. You may have up to four different tiles to cut to fit properly around the duct work. Install all tiles around the duct work and any other objects before installing the tiles in the main grid.
Step 5
Modify the main brackets if needed. If the duct work intersects with a main bracket, cut the bracket and splice it into the new "L" bracket once it is installed against the duct work. This should provide the same type of fit as against the exterior walls.