Things You'll Need
Water hose

TSP

Water

Bleach

Plastic sheet or tarp

Brush

Tar remover

Sponge or cloth

Mild dishwashing liquid

Mineral spirits

Soft Scrub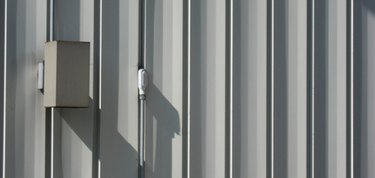 Vinyl siding is constantly dealing with harsh elements, such as wind, rain and snow, and it is only natural for your once bright, white siding to become dull, dingy and stained. Hosing your vinyl siding down routinely will help keep it free of dirt and grim. However, stains can sometimes appear on your siding that cannot be removed with water alone. Chemicals that are commonly used outside, such as deck stain, insect repellent and asphalt, can accidentally come in contact with your vinyl siding, leaving behind yellow stains. Removing most of these stains is relatively easy, using only a few household items.
Stain Removal
Step 1
Spray the vinyl siding with a water hose to remove any dirt and debris.
Step 2
Combine 1/3 cup of TSP with a gallon of water and a quart of bleach. Mix thoroughly.
Step 3
Protect plants and shrubs around the foundation of your house by covering them with a plastic sheet or tarp. Bleach can kill your plants, and no matter how careful you are with the bleach mixture there is still a possibility that the bleach could come in contact with them.
Step 4
Scrub the stained area with a brush saturated with the bleach mixture. A long-handled car-washing brush works well.
Step 5
Rinse the siding with a water hose to remove all remaining bleach.
Asphalt Stain Removal
Step 1
Spray the asphalt stain with the tar remover, which can be found in the automotive section at your local department store.
Step 2
Allow the tar remover to sit on the yellow stain for 15 minutes.
Step 3
Saturate a cloth or sponge with the tar remover and scrub the stain. Continue scrubbing until the yellow stain has disappeared.
Step 4
Clean the area with mild dishwashing liquid and cool water.
Step 5
Rinse the area and allow the siding to air dry.
Yellow Stains Caused By Deck Stain
Step 1
Apply mineral spirits to a sponge or cloth.
Step 2
Rub the yellow stain in a circular motion, reapplying mineral spirits as needed.
Step 3
Rinse the area with cool water and allow it to air dry.
Step 4
Apply Soft Scrub to a sponge. If the yellow stain was not removed with the mineral spirits, try Soft Scrub, which is a common bathroom and kitchen cleaner. Scrub the stain gently with the Soft Scrub. The Soft Scrub could remove some of the vinyl siding surface, so scrub the area carefully.
Step 5
Rinse the area with water and allow it to air dry.
Tip
Wear gloves when working with bleach.