Things You'll Need
Drop cloth or tarp

Rags

Sandpaper

Tack cloth

Small paintbrushes

Primer

Paint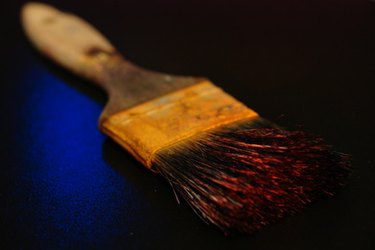 Wooden furniture, such as tables and chairs, are a popular find at a flea market or a thrift store. However, you may find a chair that would go great with the rest of your home décor but has a few cosmetic blemishes, such as chipped, loose or cracking paint on its legs. Or you may have an old wooden chair that is in good condition but the legs are showing signs of normal wear and tear. Regardless of the problem, it's easy to restore the chair with fresh paint.
Step 1
Place a drop cloth or a tarp on the floor and open windows so you have a well-ventilated work area.
Step 2
Tip the chair so the legs are facing upward. Wipe away dust and other dirt on the chair legs with a wet rag. Allow the chair to dry.
Step 3
Rough up the legs on the chair by sanding gently with fine-grit sandpaper. Make sure you get into the crevices of the legs. Sanding will help the primer and paint adhere. Wipe off the legs with a tack cloth or a clean, dry rag.
Step 4
Use a small brush to paint oil-based primer on the legs. Brush the primer outward, following the shape of the legs, so the paint doesn't smear or streak. Strokes should be even and slightly overlap. Allow the primer to dry overnight.
Step 5
Check for imperfections, such as tiny bubbles in the primer. If you see any bubbles on the surface of the legs, sand the areas again. Dust debris with a tack cloth. Reapply the primer. Make sure the primer is dry before proceeding.
Step 6
Apply two coats of semi-gloss or gloss latex paint to the legs, using another small brush. Choose a color that matches the tone and shade of the rest of the chair. Or if you want a funky look, choose a contrasting color to make the chair stand out. Allow to dry overnight. Touch up any areas if you need to. Allow the chair to dry for at least 48 hours.