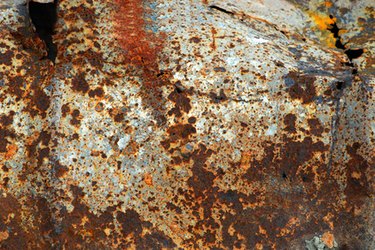 Rust stains on white clothing can diminish the appearance of the entire garment. Rust can form on clothing as a result of a rusty washer or hard water, and the reddish-brown color really stands out on white or light-colored dresses, tops, jackets or any other article of clothing. But there's no need to throw out your apparel just because of a rust stain. You can use common household products to remove rust stains.
Things You'll Need
Sponge

White vinegar

Table salt

Bowl

Cream of tartar

Spoon

Buttermilk

Lemon juice

Table salt

Large pot

Tongs
Salt and Vinegar
Step 1
Saturate a clean sponge with white vinegar. Sponge the vinegar onto the rust stain, thoroughly wetting it.
Step 2
Sprinkle 1 tsp. of table salt over the vinegar. Use your fingers to rub the salt into the stain.
Step 3
Allow the vinegar and salt mixture to air dry. If it is a sunny day, lay the clothing outside.
Step 4
Place the clothing in the washer and launder as usual. Do not put the garment in the dryer until you are sure that all rust has been removed.
Cream of Tartar and Salt
Step 1
Fill a bowl with equal parts cream of tartar and table salt. Slowly add hot water, 1 tsp. at a time, and stir until a thick paste forms.
Step 2
Scoop the paste from the bowl and rub it on the rust stain with your fingers. Let it sit for about 15 minutes.
Step 3
Launder the clothing as usual. Inspect it for any traces of rust before placing it in the dryer.
Buttermilk
Step 1
Pour 2 tbsp. buttermilk onto the rust stain. Rub the buttermilk into the fabric with your fingers. Allow the buttermilk to remain on the stain for several hours.
Step 2
Rinse the buttermilk from the clothing with water.
Step 3
Launder the clothing as usual, inspecting for any traces of rust prior to placing in the dryer.
Lemon Juice and Boiling Water
Step 1
Soak the stain with juice from a lemon or bottled lemon juice. Use about 1 tbsp. of lemon juice.
Step 2
Sprinkle 1 tsp. table salt over the lemon juice. Rub the salt into the clothing with your fingers.
Step 3
Fill a large pot with water and submerge the clothing in it. Place the pot on the stove and bring the water to a boil.
Step 4
Lower the clothing into the boiling water. Use a pair of tongs to make sure it is completely submerged.
Step 5
Boil for five minutes, then remove the garment from the pot with tongs. Rinse with cool water and launder as usual.
Warning
Do not boiling delicate clothing or clothing that cannot be washed in hot water. Never use chlorine bleach to remove rust stains. A chemical reaction will be created, causing the rust stain to set into the fabric.