Things You'll Need
Pry bar

Tape measure

Level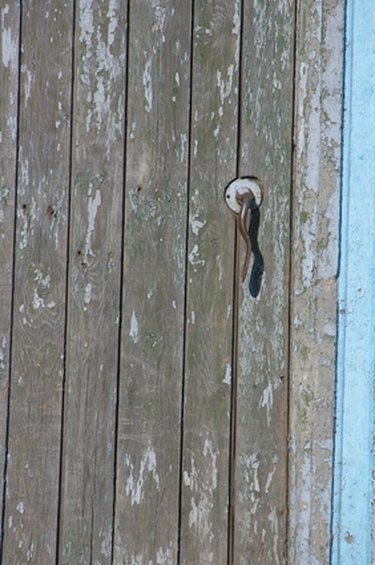 Pre-hung doors are a common choice for homeowner's looking to purchase a new exterior door because they come from the factory already set within a frame. This not only saves time and energy for the person installing the door, but it also means that the door will be more weather-tight. Pre-hung doors are sold according to the size of a doorway's rough opening. This means that to purchase the right-size pre-hung door for your home, it is important that you know how to measure the rough opening of your doorway accurately.
Step 1
Remove the molding from the door's opening using a pry bar. The rough opening is simply the opening in which the door will be placed. The molding, sometimes referred to as trim, is the wood or other material that immediately surrounds the opening and secures the door in place. The molding must be removed because it hides the true size of the rough opening.
Step 2
Make sure that the door studs are level. The door studs are the beams, located behind the door molding, that frame the rough opening. If the studs are more than 1/4 of an inch out of plumb, they will need to be better aligned before you can obtain an accurate rough opening measurement.
Step 3
Measure the width of the rough opening. The measurement should run from the door stud found on one side of the doorway to the opposite door stud on the other side of the opening. All measurements should be taken in inches.
Step 4
Measure the height of the rough opening. The measurement should run from the floor to the top of the rough opening.
Step 5
Measure the depth of the rough opening. The depth is the distance from the front of the rough opening to the back.
Step 6
Take these three measurements to your local hardware store and find the pre-hung door size that corresponds to them.
Tip
Exterior doors are usually a quarter inch thicker than interior doors.