Things You'll Need
Flannel sheets

Gentle laundry detergent

Vinegar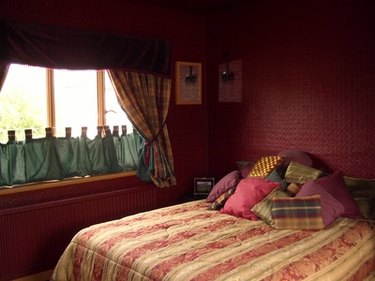 If you live in a cold climate, or just like to be particularly warm while you sleep, chances are you use flannel sheets. These soft, warm sheets are made either of pure wool, pure cotton or a mix of the two materials. One of the downfalls of flannel is its tendency to develop pilling after a wash. These tiny balls of fabric can be unsightly as well as scratchy and uncomfortable. To keep your flannel sheets in good shape, you must care for them properly.
Step 1
Take off any jewelry or other hard, sharp or potentially harmful objects before going to bed. Flannel sheets can be more fragile than other types of sheets and may be torn or damaged by such objects.
Step 2
Wash your flannel sheets in a washing machine set to warm on the gentle or delicate setting when they are dirty. Use only a very mild and gentle detergent. If this is the first time you are washing your sheets, use no detergent at all. Instead, use half a cup of white vinegar. This will help prevent pilling.
Step 3
Add half a cup of vinegar to the washing machine during the rinse cycle if you have washed your sheets before and used detergent in Step 2.
Step 4
Dry your flannel sheets in the dryer until they are completely dry. Do not use fabric sheets.
Step 5
Fold your clean sheets and put them in the closet. You should try to keep three sets of sheets to extend the life of each set, according to Dana Poor of Cotton Incorporated. Poor advises that you should have one set of sheets on your bed, one in the laundry pile or ready to be washed and one clean in your closet.