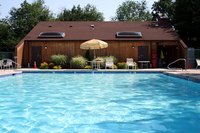 Installing black polyethylene pipes (or poly pipes) provides heat for your swimming pool with the help of solar power. Most garden and hardware supply stores sell such pipes, so getting them should be no problem. The dark color of poly pipes gives them the ability to absorb heat from the sun. And because the material reacts automatically when the sun comes up, you don't have to worry about switching your homemade solar heating system on or off.
Things You'll Need
Tape measure
Black poly pipes or black hose
Decide where you want to set up your solar heating system. The best place would be on top of a shed roof (if you have one) near your swimming pool, or on top of your home's roof. These areas will ensure that your pipes will have the maximum sun exposure, for faster heating.
Use your tape measure to determine the distance of the swimming pool from the area where you intend to set up your heating system. Likewise, this will determine how long of a pipe or hose you will need for your system.
Purchase the length of pipe you need. (The size, in meters, depends on your pool's capacity and the pipes' proximity from the pool.)
Position the pipe or hose on your desired area. String one end toward your pool's water pump and connect the pipe or hose end to its output. Then string the other end toward your swimming pool and feed the pipe or hose into your pool.
Make the pipe or hose look neat and orderly by arranging it into a spiral. You can place a blackboard underneath it (to assist in heat absorption) or you can simply arrange the spiral right on top of the roof.
Start your pool's water pump.