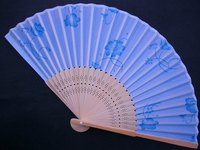 The decorative and often intricate designs painted or printed on oriental fans are best appreciated when the fans are open. You can display and protect an open oriental fan inside a shadow box. Hang the shadow box on the wall as art or place it on a tabletop as an accent. Shadow boxes are three-dimensional picture frames with a depth of around 2 inches. Frame the oriental fan alone or display similar mementos and collectibles inside the same shadow box. Look for shadow boxes in a variety of sizes at craft stores and online retailers.
Things You'll Need
Shadow box
Small screwdriver
Self adhesive interlocking strips
Scissors
Remove the back from the shadow box frame. In many frame designs, this requires removing two or more tiny screws, and then sliding the back up or down the grooves along the sides of the frame.
Open the oriental fan completely to create the display. Place the open fan face down on a work surface.
Attach 6 inches of self-adhesive interlocking strips together. Cut the strip into six 1-inch sections.
Remove the backing from one side of one strip and attach it to the base of the open fan. Remove the backing from one side of two strips and attach one section to the points on either side of the open fan. Remove the backing from one side of the remaining sections and attach them across the accordion folds along the center of the fan. The six sections of interlocking strips should still have the backing attached to the sides facing up.
Place the open oriental fan on top of the felt backboard of the shadow box. Arrange the fan to best suit your idea of the display. Remove the backing from the interlocking strips on the backside of the fan. Press the fan gently on top of the felt backboard so that the adhesive will grip the felt.
Reinsert the backboard inside the shadow box. Reattach the screws to hold the backboard in place.