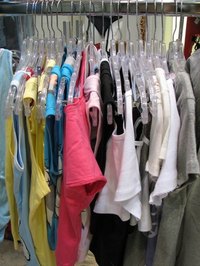 Whether saving time and energy in the laundry room, accommodating a large number of guests or expanding closet storage, a rolling clothes rack solves many "where do I hang it?" problems. You can make a very sturdy rack from metal plumbing supplies, or you can assemble a lighter and simpler rack with PVC pipe and few handyman skills. You can change the proportions to fit your space as long as the general principles are followed.
Things You'll Need
3 5-foot lengths of 2-inch PVC pipe
6 PVC elbow joints
2 T-joints
4 1 1/2-foot lengths of 2-inch PVC pipe
4 PVC wheeled casters
Hand or electric drill
Screws (may come with casters)
Screwdriver
1-inch metal pipe
2 elbow joints
2 shower-rod receptacles for pipe
Pipe wrench or Teflon tape
1/2-inch plywood, 5 1/2 feet by 3 feet
Screws for shower-rod receptacles
Screwdriver
Furniture casters
Paint (optional)
PVC Clothes Rack
Get your pipe precut at the lumber yard to save time and effort. Join the 5-foot sections with elbow joints to make a hollow open square.
Insert the remaining ends of the 5-foot lengths into T-joints. Place four 1 1/2-foot pipes into the T-joints. Your frame is now complete.
Put the four remaining elbows on the ends of the 1 1/2-foot pipes. Insert or join casters to the elbows.
Test the stability of your rack. For frequent use, joints should be reinforced with glue. Take the rack apart and glue all the joints. Allow to dry thoroughly.
Metal Pipe Clothes Rack
Purchase threaded pipe and joints for easiest assembly. Use Teflon tape to reinforce unthreaded joints.
Attach the furniture casters to the bottom side of the plywood. Attach the shower rod receptacles to the plywood, 5 feet apart, with screws. Wrap the 5-foot length ends with Teflon tape for a secure fit, and insert them in the shower rod receptacles.
Paint the completed rack if desired.