Things You'll Need
Mild soap and water

Sponge

Bucket

Steel-bristled brush

Primer

Low-tack painter's tape

Paintbrush

Paint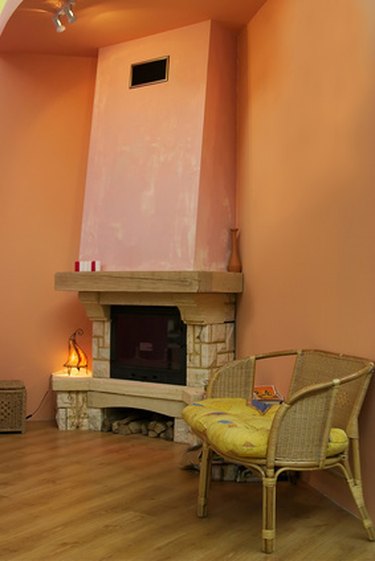 A cast-concrete fireplace surround is a less expensive alternative to natural stone and wooden mantles. Cast-concrete mantles come in a number of sizes and designs. The drawback to the types of fireplaces is that, while many companies add color to the concrete before casting, they rarely come in a bright and vibrant shade. Your fireplace is the showpiece of your living room. You want it to stand out and show off the fire you have roaring behind it. Paint is a great way to add color and depth to the concrete piece.
Step 1
Clean the cast concrete thoroughly using mild soap and water. Mix dishwashing soap and water in a small bucket. Use a sponge to clean the fireplace. Soot, ashes and other grease have, over time, marred the surface of the concrete. Remove all dirt and grime. Rinse with clean water and a sponge. Allow the concrete to dry.
Step 2
Use a steel-bristled brush to give the fireplace a rough texture. Texture will help the primer to adhere to the surface of the concrete and create a better bond between the concrete and the paint. You want the concrete to be the consistency of an orange peel. Wipe away dust and debris with a damp rag.
Step 3
Mask off any areas you don't want to paint with low-tack painter's tape. Cover the floors beneath the fireplace with a drop cloth or newspaper.
Step 4
Apply primer to the concrete. Use a primer formulated for concrete and masonry. Concrete is porous and may soak up a large quantity of paint. Apply two to three coats of primer. Use a good quality paintbrush. Start at the top of the fireplace and work down. Avoid brush strokes as much as possible. Allow the primer to dry between coats.
Step 5
Paint the concrete using a good quality paintbrush. Switch to a small artist's brush to get paint into the detailed areas and crevices. Follow with a larger brush to apply paint to the larger, flatter areas of the fireplace. Apply multiple thin layers of paint instead of one thick one. Thin coats of paint will be less likely to chip and scratch over time. Let the paint dry to the touch between coats. Wait 24 hours before using the fireplace.
Tip
Add depth to your paint job by using faux-finishing techniques. You can sponge-paint the fireplace with multiple colors of paint to simulate natural stone. Choose three to four paint colors and apply in layers using a sea sponge. Allow each color to dry before applying the next color. Faux painting is an artistic endeavor. Step back to evaluate and adjust your paint job as you work.