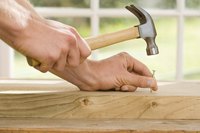 You can expand your living and entertainment space for a mobile home by building a porch cover. It's relaxing to sit on a porch during warm weather, but you can enclose part of the porch for year-round use. The look of the porch will depend upon how much planning you put into the design work. Materials for a nice-looking porch or poorly constructed porch will cost almost the same. A great looking porch requires good sketches and careful planning to replicate the design you've drawn.
Things You'll Need
2 by 12 lumber boards
Pre-made porch posts
Pre-made railing
Exterior grade plywood
Asphalt shingles
Stain or paint
Stainless steel flathead nails
Stainless steel flathead screws
Guttering and downspouts
Concrete splash blocks
Buy 2 by 12 lumber boards to construct the porch framing. Build the roof area of the porch to slope 12 inches from top to bottom. Do not attach the wood framing to the mobile home itself, in case you ever need to move it. Instead, secure the framing to the porch decking with stainless steel nuts and bolts rather than simple screws.
Construct the porch as a stand-alone structure with premade posts and premade railings comprised of ballusters that are square in design. Use posts that are at least 10-inch by 10-inch square. Don't use round support posts on a mobile home porch. Square posts will support the weight of the roof more evenly.
Cover the porch roof with exterior-grade plywood. Make the plywood extend a few inches over the gap on the high side between the trailer and the roof to shield from rain. Install tar paper and asphalt shingles on the porch roof. Place guttering and downspouts on the front of the porch with a concrete splashblock at each end of the porch.
Cover the underside of the porch with plywood and install a light fixture or light-fan combination. Thread all electrical wiring through exterior-grade flexible conduit. Follow all building codes or recommendations by your local fire marshall.
Build in one bottom section of the porch to store grilling equipment or lawn tools. Design a sliding door to hide the stored items. Paint or stain the porch decking, railings and roof areas as needed. Use oil-based paint or stain to preserve the wood.