Things You'll Need
Filler rod and flux

Mig welder

Tig welder

Measuring tape

3-foot ruler

Pencils

Paper

Large and small carpenter's square

Hand grinder

Portable band saw

Jigsaw

C clamps or vise clamps

Ball-peen hammer

Welder's helmet

Gloves

Propane, torch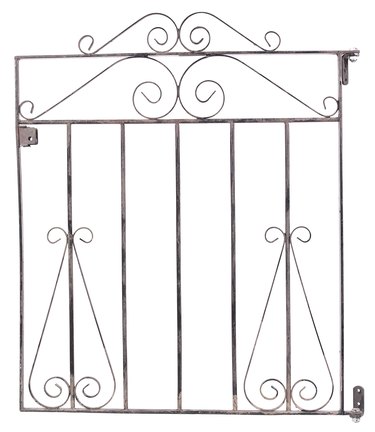 Wrought-iron gates stand the test of time not only in durability but also in style. Wrought iron can leave a lasting impression and makes a statement of class and elegance. Only your imagination limits the design of a wrought-iron gate. It can be elegant, ornate, or simple and modern. Wrought-iron gates can reflect the past, present or future. Making your own wrought-iron gate may be a bit of a challenge, but the rewards will be well worth the effort.
Step 1
Measure the opening where you'll install your gate. Keep your design in scale, allowing for the posts, hinges and closing device (this could be the type that slides or the lever type, and can either be purchased or made).
Step 2
Create your design using your own imagination or get inspiration by looking at designs on the Internet or in books at the library. You may already have one in mind, or go online or to the library for ideas. If this is your first attempt, you may want to take into consideration the complexity of your design. But any look is possible with patience.
Step 3
Purchase or order your materials. Some components already may be made for you, such as pickets or posts. The supplier can help with this process.
Step 4
Build your gate according to your design. If your design has bends and curves, you'll need a torch, anvil and hammer, or a rented bending device. Once you have formed your design to your satisfaction, check that it is plumb, using carpenter squares. You may want to cut 45-degree angles for a neater appearance at the corners.
Step 5
Secure everything into place using clamps.. Now the welding process begins. Tack everything into place using small welds and argon gas before performing the stronger permanent welds. After you have completed the welding process, go back over the welds and clean them up, using a hand grinder to smooth and sand.
Step 6
Inspect the welds. Check that everything is secure and cleaned and smoothed to your satisfaction. Paint the gate or have it powder-coated. Install your gate, using a level and or a carpenter square to ensure it is straight and will operate properly.
Tip
If you intend to take this up as a hobby or a business, consider renting welding and bending equipment.
You may want to practice welds on scrap materials before beginning your gate.
When welding, always wear protective equipment to ensure safety. Your eyes must be shielded to prevent loss of eyesight; welding helmets are specifically made for this. Gloves are also recommended.