An attic space conversion can be a fun family project. Working with slanted ceilings and atypical space requires imagination. If you have enough room, you can create a home office, bathroom or small kitchen in this area. A loft in the attic is somewhat of a getaway space for a teenager or for an in-law apartment, so try to include a bath in this area. Collect ideas by going online to view attic conversions or review home design magazines.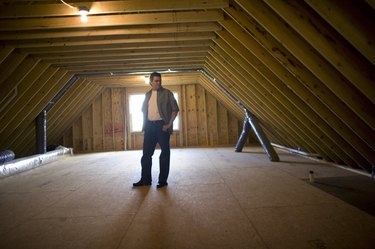 Things You'll Need
Tile

Bathroom Fixtures

2-By-4 Lumber

Paint

Stainless Steel Nails

Hand Saw

Crown Molding

Joint Compound

Round-Blade Electric Saw

Plumbing Pipes

Tape Measure

Wood Flooring

Shelving Materials

Drywall

Electric Screwdriver

Stainless Steel Screws

Closet Doors
Step 1
Create an attic access opening to evaluate the space. Enter the attic to measure how much floor space you will have to build living area and make notes about slanted ceilings and other challenges. Ask a licensed electrician to accompany you in looking over the space. Wiring may need to be redirected for the construction process. Have a plumber come onsite as well, once you know what type of bathroom you want to build.
Step 2
Sketch ways to design the loft from magazine photos and websites. Take advantage of all space under the eaves to design storage shelves and cubbyholes. Measure the center of the attic space to ensure you have at least 10 feet in the highest part, say experts at the National Association of Home Builders. You don't want to build in the space only to have insufficient ceiling height.
Step 3
Use measuring tools to make sure you will have at least a 9-by-12 area. Sloping ceilings off to the sides will expand this area. Design the loft on graph paper to include a bathroom. Install a vanity and commode if that's all the room you have. Use one space of graph paper to represent 6 inches of real space. Try to design the bath area directly above a bathroom on the floor below so you can add water pipes and drain lines to connect with existing plumbing.
Step 4
Hire a professional to evaluate whether your heating and air system can serve the additional space. Allow for ductwork and venting in your loft plans to accommodate this. If your heat pump or HVAC unit is too small, consider installing a separate unit for the loft area or use electric wall units for heating. Cool the area in warm weather by opening windows or installing an air-conditioning unit.
Step 5
Frame the attic walls and storage areas with 2-by-4 boards. Create closets or storage cubbyholes in low-lying eaves areas to make sure the loft is free of clutter. Install insulation between the studs and run electrical wiring back to the breaker box with the help of an electrician. Install drywall and subflooring. Paint the walls and install all wood trim and closet doors. Connect electricity and plumbing. Install tile or wood flooring and seat bath fixtures.
Tip
Paint the loft area a light color in most wall areas to enhance any available light. Dark paint will make the area seem smaller.
Warning
Fire codes require attic spaces to have windows to escape in case of fire. Consider adding a deck to the end of the attic space, so family or guests would have better access to the outside.