Things You'll Need
Wood glue

Glue injector

Plastic wrap

Wooden block

C-clamps

Wood paint

Paintbrush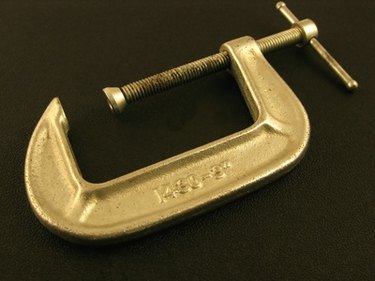 Particle board is a composite product, meaning that it is made up of two or more materials. A synthetic resin holds the particles together to create the board. It used to be flimsy and break easily. Now, however, the manufacturing process and additional materials that go into it have made it sturdier than ever. A chip or clean break can always occur. You only need a few simple tools to fix the board.
Step 1
Leave the broken piece of board attached. Do not pull it off. While it is still bound to the board on its own--even just a little--it will allow you to do less work and use fewer materials to fix it.
Step 2
Fill the glue injector with wood glue. Press a thin line of glue into the fractured line of the board. Force the broken piece against the board to help the glue dry as quickly as possible.
Step 3
Wrap the broken area in plastic wrap to keep it tightly bound. This is so that wet glue cannot attach to the wooden block you will use to keep the weight on the board.
Step 4
Place the wooden block over the plastic wrapped, damaged area. This will go between the particleboard and the C-clamp.
Step 5
Attach the C-clamp to the board. Place the clamp around the board and wooden block. Screw the clamp until it is tight enough. Test it by pulling on the clamp. If it does not slide, then it is tight enough.
Allow the glue to dry for 24 hours. Remove all materials. Use the particle board as intended.