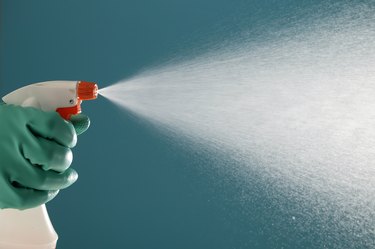 You can use vinegar, a clear and slightly acidic liquid, for so many purposes. It tastes good in salad dressings and recipes, and it can kill insects, remove odors, freshen up laundry and clean concrete. You can make DIY vinegar mixtures at home with a few other household ingredients, so it can save you a good deal of money.
Vinegar is a good option for people who prefer using natural cleaners on concrete surfaces. You can fill a spray bottle with a 50/50 mixture of vinegar and water, adding a few drops of liquid dish soap. Spray this solution directly onto the concrete, letting it rest for around half an hour. If you leave it on too long, the vinegar can eat through concrete parts. Use a nonmetallic scrub brush, as metal ones can leave tiny pieces on the concrete, which can rust.
It's important to note that vinegar is a nonselective weed killer, so if it is allowed to run off into your lawn or garden beds, that will be a problem for any shrubs, trees, grasses and flowers growing there. Ensure that the vinegar runoff is directed into a safe area, like the street. Cleaning concrete with vinegar works well, but you don't want to damage your grass or plants.
Using Vinegar Outside the House
There are websites that share hundreds of uses for vinegar, so after using vinegar on concrete, you can use it for a few other jobs outdoors. Pure vinegar is strong enough that it is even suitable for polishing chrome, and you can also drop old, dried-out paintbrushes into a jar of it to give them new life. Do you have any rusted screws or hinges? Pour vinegar onto a clean rag and use it to loosen them.
Vinegar is also suitable for cleaning up your car's wiper blades, getting rid of odors and removing bumper stickers. To clean your car's upholstery with it, you can combine 1/4 cup of vinegar with some all-natural detergent and warm water. Pour that solution into a spray bottle, spritz the upholstery and give it 10 minutes. All you have to do is wipe it away with a clean, damp rag and let it air dry.
Using Vinegar Inside the House
You can use vinegar for other cleaning projects too, like cleaning your windows. Combine one part with two parts water in a spray bottle. This solution also works well on stainless steel appliances. Do you need to clean inside your microwave? Loosen the mess first by filling up a bowl with a 50/50 mixture of vinegar and water. Heat the solution for five minutes or until it boils and leave it there for five minutes. It'll be much easier to wipe down the interior afterward.
That diluted mixture also works well when you need to remove stains from clothing, carpeting and other textiles. Blot away at the stain and then let it sit for five to 10 minutes before wiping it with a clean, damp rag. Vinegar also has a multitude of uses in bathrooms. Use it to clean fixtures, toothbrush cups, toilet seats and even your loofah (it will have to soak in the mixture for 10 minutes; rinse afterward). As a bonus, these cleaned surfaces will all shine after drying.