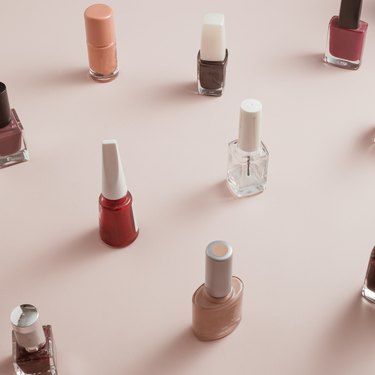 You might not devote much thought to where you paint your nails, but this increases the risk of getting fingernail polish on a tabletop, floor, sink, couch or elsewhere. If you see it right away and attend to it immediately, you'll have a better chance of success. It can be trickier when it gets into couch material, though. What are the best ways to get fingernail polish out of a couch?
Removing Nail Polish From Fabric Couches
If the stain is still wet, take a clean paper towel and gently blot away at the fingernail polish, taking care not to rub or press it into the fabric. You can use a dry cleaning solvent, but you might not have any of that on hand. Try a few drops of hydrogen peroxide and blot it gently with a clean cloth. Follow that with a clean sponge and some warm water to remove the rest of the residue, drying afterward. Don't use acetone, as this can damage the upholstery.
In addition to using hydrogen peroxide for removing fingernail polish from a fabric couch, you can use white vinegar, which can work just as well. Spray white vinegar onto the stained area and blot it out with water. You can repeat the process using only a little bit at a time until the stain is gone.
You might also be able to remove the fingernail polish stain with liquid dish soap. Add 1 tablespoon to 2 cups of cool water and mix it. Dip a clean white cloth into the solution and dab at the stain until all the polish is absorbed. Sponge it clean with cool water and blot dry.
Removing Nail Polish From Leather and Suede
If you have a leather or suede couch, you will likely be even more concerned about nail polish stains, but these too can be removed without too much effort. For leather upholstery, get cotton balls and rubbing alcohol. Blot the stain, switching out the cotton balls for clean ones as they absorb the polish. If you don't have rubbing alcohol, you can use hairspray instead. Once you remove the stain, clean the area with a bit of gentle detergent on a soft cloth and then wipe that up with another cloth.
For suede couches, cover the stain with baking soda and let it rest for 15 minutes. Use a clean, gentle toothbrush to carefully sweep away the powder from the stain. You can follow this up with cotton balls and rubbing alcohol. Allow the fabric to dry and then brush it with a suede brush.
Preventing Nail Polish Stains
The best way to keep fingernail polish from staining couches is to do your manicures elsewhere and protect the surfaces. Set up everything on a table at the right height rather than a low coffee table next to a couch. Cover the table surface with an old towel or a paper bag and take your time while polishing. Covering the floor is also a good idea.
If you have a bathroom counter at which you can sit, that is even better because nail polish is easier to remove from bathroom surfaces, like tiles. If the polish gets onto your counter or tiles, you can easily remove it with acetone. The important thing is to be comfortable while you are working and to take your time.