Things You'll Need
Thermometer

Humidifier

Wood planks

Weatherproof tarp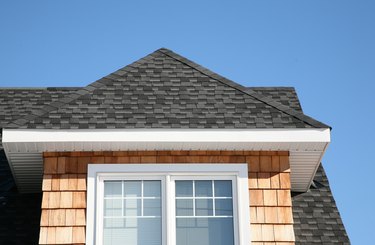 Asphalt is a petroleum product commonly used to pave roads. Roofing shingles can also be made from asphalt; according to the Asphalt Roofing Manufacturers Association, four types of asphalt are used to shingle a roof. Homeowners who have asphalt shingles left over will want to keep them on hand in case a repair is needed. Storing asphalt roof shingles correctly keeps them ready for use at any time.
Step 1
Store asphalt shingles in an area that is temperature-controlled or does not reach higher than 325 degrees Fahrenheit. The Asphalt Roofing Manufacturers Association says the preferable storage temperature to prevent the material from breaking down is lower than 325 degrees, and it should never reach its flash point of 525 degrees. Use a thermometer to determine the temperature of your garage, shed or other indoor storage facilities before placing the shingles inside.
Step 2
Keep asphalt roofing materials dry, as moisture can damage the shingles. If you cannot store your shingles inside, place them on wooden planks that prevent moisture seeping in from the ground. Cover the asphalt roof shingles with a weatherproof tarp to provide further protection from wet conditions, as well as direct sunlight. Humid indoor storage conditions can also be damaging; moisture-control mechanisms such as a humidifier may be needed to create the optimum storage facility.
Step 3
Place boxes of asphalt shingles in their upright position to avoid breakage and any other damage. Try to keep boxes in short, single-box piles; stacking several containers on top of each other may accelerate the disintegration of the asphalt.
Step 4
Store shingles in an area that is not overly sunny. A darkened corner of a storage shed or garage is better than beside a window. Sunlight may cause the material to overheat and break down.