Things You'll Need
220-grit sandpaper

Wood stain

Foam paintbrush

Polyurethane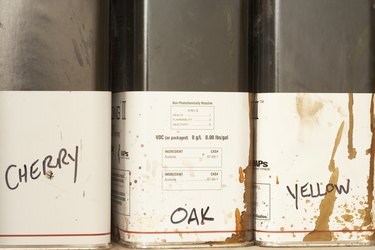 A fireplace mantel can be the instant focal point of the room if you customize it with wood stain so that it matches the furniture around it. With a color that complements your existing décor, your mantel will look elegant and distinctive for years to come.
Step 1
Sand the mantel with 220-grit sandpaper to prepare it for the stain. If your fireplace mantel has been previously stained, sand it until you remove all traces of the old stain. If your fireplace mantel is new, sand it until the wood feels smooth. Sprinkle a few drops of water onto the wood. If the wood absorbs the water, you know it will absorb the stain and you're ready to begin.
Step 2
Apply the wood stain to your fireplace mantel using a foam paintbrush. Working from top to bottom, apply the stain in the same direction as the grain of the wood. Use a clean cloth to wipe any excess off the mantel.
Step 3
Allow the stained fireplace mantel to completely dry.
Step 4
Add additional coats of stain until your fireplace mantel is the color you desire.
Step 5
Protect your fireplace mantel stain with a coat of polyurethane. The heat generated by a fireplace makes a protective sealant even more important. Apply two coats of polyurethane or tung oil to the mantel in the same direction as the grain of the wood. Allow it to dry overnight.