Things You'll Need
Hammer

Nails

Planks

Lumber

Pencil

Hand saw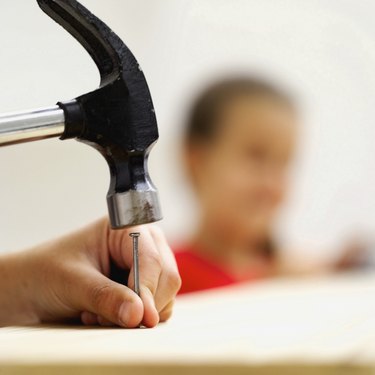 The house deck is an ingenious way of extending the house, and inexpensive when compared to the cost of an addition. Decks can usually be accessed either from the main house or by stairs from the outside. Building box steps for a deck is not as hard as making the deck itself. Just as in building the deck, planning beforehand should be considered as well as safety precautions. Once the position of the stairs has been decided, building the box steps is next.
Step 1
Measure the height of the deck from the ground. This will give you the general idea of the height of the riser of the box step. Although the standard vertical distance of a rise should be about 6 inches and 10 inches for the horizontal distance, it will all depend on the actual height of the deck from the ground.
Step 2
Determine the number of box steps needed for the stairs. Once this has been decided, gather the wood needed for the job. Ply board is thick enough for the job, but other slabs of wood can also do well.
Step 3
Mark the wood with a pencil before cutting. The marks on the wood will act as the guide to saw the wood.
Step 4
Secure the frame by nailing or screwing it together. Once the frame for the box step is made, place the tread over the frame and secure it with nails or screw as well.
Step 5
Connect the box step to the deck. If the deck will require only one box step for its stairs, only two risers and one tread is needed. Once the box step has been assembled, connect it to the main deck.
Tip
Do not try thin wood for the tread. Invest on thick, durable wood instead. Draw a plan first before buying and cutting the wood.
Warning
Do not try to install the box steps if you are not sure that the box steps are secured enough. It may be wiser to contact a professional builder to build the stairs.