Things You'll Need
Detergent

Liquid vinyl

Graining paper

Spatula

Iron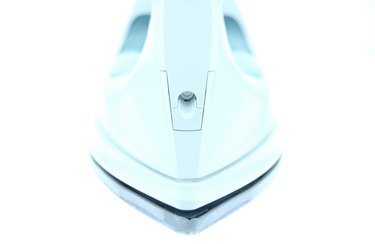 Vinyl is a common material for furniture that is easy to work with, durable and comfortable. However, vinyl can sometimes rip, crack or tear. This is especially true for vinyl chairs, which must deal with fluctuations in weight and friction. Fortunately, repairing cracked vinyl chairs is a straightforward process that almost anyone can do.
Step 1
Thoroughly wash the area that needs repair using vinyl-safe detergent. Dry the area thoroughly.
Step 2
Apply the liquid vinyl to the crack. Spread the liquid vinyl with a spatula to ensure full coverage. Make sure the liquid vinyl matches the color of the chair--most hardware stores offer a wide selection of colors.
Step 3
Put a graining paper on top of the liquid vinyl and gently press it into place. Graining paper allows for a transfer of texture to the patch, to allow it to blend into the chair's original vinyl.
Step 4
Apply an iron to the graining paper according to the liquid vinyl manufacturer's instructions. In general, an iron set at medium heat for 60 seconds is sufficient.
Step 5
Remove the graining paper and allow the patch to cool.
Step 6
Gently wash the patch. The seat is now ready for use.
Tip
Make sure the liquid vinyl works completely into the cracks, in order to achieve a solid patch. Consider testing the liquid vinyl and graining paper on a hidden area of the chair to make sure the color and the grain pattern match the chair.
Warning
Do not use too high of a setting on the iron to avoid scorching the original vinyl. Very large cracks may not respond well to a home treatment and may require the services of a professional upholsterer.