Things You'll Need
Latex gloves

Disposable plastic putty knife

Mineral spirits

Rags or paper towels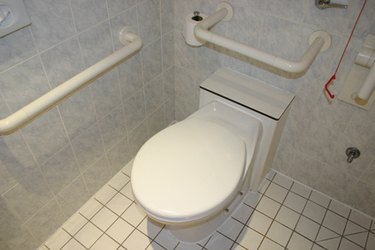 Reinstalling a toilet is a straightforward do-it-yourself project, and a necessity when installing a new laminate or ceramic bathroom floor. While pulling and replacing the toilet is uncomplicated, it is always necessary to replace the wax seal that prevents the toilet from leaking. A toilet seal is made from sticky beeswax, and it can be quite troublesome to clean up the old wax from your toilet before installing the new wax seal and finishing the replacement job.
Step 1
Don a pair of gloves. Remove the main piece of the wax seal from the base of the toilet by placing a rag or paper towel over the seal and grasping it with a gloved hand. Rock the seal back and forth to loosen it, then pull it straight out from the toilet bottom. Place the seal into a plastic bag for disposal.
Step 2
Scrape away any excess wax that remains on the toilet hole, using a disposable plastic putty knife. Wipe the putty knife onto a rag or paper towel as you work.
Step 3
Wipe away any remaining residue. Moisten a rag or paper towel with mineral spirits and rub in a brisk circular motion to dissolve the beeswax. Repeat until all wax toilet seal residue is gone and the surface is clean. You are now ready for the new ring to be put in place before the toilet is reinstalled.
Tip
Always wear gloves and take care not to get the wax on your skin or clothes.
Warning
Always use adequate ventilation when using mineral spirits.