Things You'll Need
Plastic repair kit, such as Plast-aid

Gloves

Stir stick or any other small stick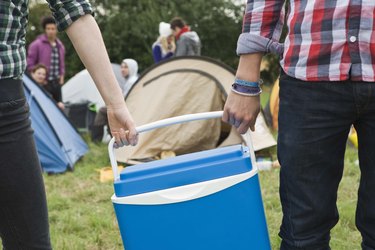 Ice chests and coolers are useful for keeping food and drinks cold, but when they are cracked they can leak and be ineffective. You can fix a cracked cooler, depending on where the crack is located—the inner lining or the exterior—and what type of material the cooler is made of. Fix a plastic cooler with plastic repair kits, which are available on the Internet or in home repair stores.
Step 1
Wash hands and make sure that the cracked surface of the cooler is clean and dry.
Step 2
Set the cooler on a flat surface with the crack face up so that the plastic repair mixture won't drip.
Step 3
Put on a pair of gloves and mix the powder and liquid portions of the plastic repair kit according to the manufacturer's instructions.
Step 4
Apply the plastic repair mixture to the crack. Use a stir stick or gloved finger to quickly fill in the crack before the mixture hardens.
Step 5
Allow the mixture to fully cure, according the manufacturer's instructions.
Tip
For a quick, temporary fix, seal the crack with duct tape.