Things You'll Need
Dishwashing detergent

Bucket

Latex gloves

Non-abrasive sponge

Tub stopper

Baking soda (optional)

White vinegar (optional)

Soft cloth or rag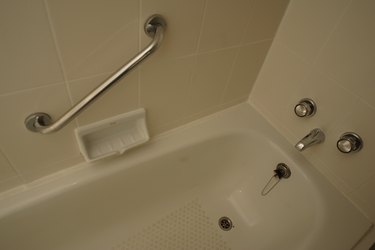 Bathtub inserts are manufactured from an array of materials including plastic, acrylic, fiberglass or porcelain. The inserts are generally installed over an existing bathtub or shower assembly. Tub inserts are durable and inexpensive, and installation usually only takes one day -- in some cases, just a few hours. Bathtub inserts must be cleaned with a non-abrasive cleaner regularly like traditional tubs to keep soap scum, grime and dirt from building up on the surface.
Step 1
Remove any bottles, soaps and other objects from the ledge of the tub insert. If the tub has a bathmat in place, remove it also.
Step 2
Mix ½ gallon of warm water and 1 cup of dishwashing detergent into a bucket. Wear latex gloves to keep your hands from getting wet.
Step 3
Stir the soap mixture with a non-abrasive sponge.
Step 4
Insert a tub stopper into the tub's drain. Pour the soap mixture into the tub.
Step 5
Scrub the tub insert with the soap mixture. Scrub the ledge around the tub, any walls attached to the tub insert, the faucets and any other areas of the insert. If the tub insert has any stains or caked-on grime, sprinkle 1 tbsp. of baking soda on the soiled area. Let the baking soda sit for five minutes. Sprinkle the baking soda with 1 tbsp. of white vinegar. You will see some bubbling — that's OK. Scrub the stain or spot with the sponge, using light force to break up the stain or caked-on dirt.
Step 6
Pull out the tub stopper once you have scrubbed down the tub insert.
Step 7
Rinse the tub with hot water from the tub's faucet or turn on the shower, if one is connected to the tub. Rinse out the sponge and use it to rinse areas of the tub insert.
Step 8
Dry the tub insert with a soft cloth or rag.
Tip
If the tub had a bathmat in place, wash it in your house's wash machine using 1 cup of the soap mixture.
Clean your bathtub insert weekly with the soap mixture to keep soap scum and dirt from building up.