Things You'll Need
Shovel

Dirt

Roll of plastic mulch liner

Hammer

Mulch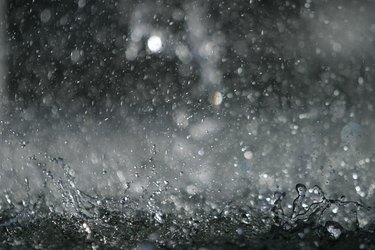 Bad weather can make it difficult to keep the exterior of your home looking like new. Rain can splash mud and dirt onto the base of your home, which takes time to clean. Prevent mud and debris from splashing onto your home in the first place by adding mulch around your house.
Step 1
Shovel about 3 inches of dirt up against the foundation of your home. Spread the dirt out about 18 inches away from your home, decreasing the slope of the soil to about an inch high as you get farther away. The slope helps rain splash away from your house.
Step 2
Firmly pat down the soil with your shovel.
Step 3
Unroll the plastic mulch liner. The mulch liner is a long, narrow rectangle. Hammer it into the ground where the edge of the soil meets the lawn. The liner is aesthetically pleasing and prevents soil and mulch from eroding onto the lawn.
Step 4
Spread about 3 inches of mulch over the soil.
Step 5
Firmly pack the mulch with your shovel.