Things You'll Need
1/4 cup coconut oil

Small microwave-safe bowl

1 lb. melt-and-pour soap base

Kitchen knife

Large microwave-safe bowl

Wooden spoon

1 tbsp. fragrance, if desired

Soap molds (this recipe will fill four 4-ounce soap molds)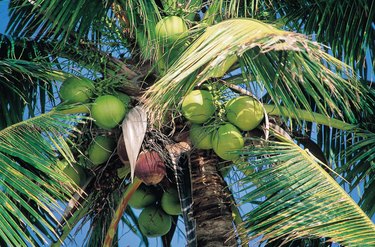 Melt-and-pour soap bases allow you to quickly and easily prepare custom bars of soap to use at home or to give as gifts. While the speed and easy customization of melt-and-pour soaps make them an attractive option for the home soapmaker, the finished soaps can be too harsh for dry or sensitive skin. You can solve this problem by adding an additional fat, like coconut oil, to your soap when you make it. The added fat will make the bar more conditioning and luxurious for your skin.
Step 1
Scoop the coconut oil into the small bowl and microwave for about 10 seconds to melt. The oil needs to be completely liquid to add it to the soap, so adjust the time as needed.
Step 2
Use the knife to chop the melt-and-pour soap base into rough 1-inch chunks. Place the chunks into the bowl and microwave for 30 seconds at a time, until the soap is totally melted. Check the soap and stir so it melts evenly. The soap is ready when it is a liquid and no chunks remain.
Step 3
Pour the melted coconut oil into the melted soap base and stir to combine.
Step 4
Pour in the fragrance if desired.
Step 5
Pour the melted soap into the soap molds and allow it to cool completely before removing from the molds.
Tip
You can use any luxury oil or butter in place of coconut oil for this recipe. Solid fats need to be melted before adding to the soap base. You can add colorants or additives along with the fragrance if desired. You can put your molded soap in the refrigerator to speed up the cooling process.
Warning
Do not overcook your soap base, just cook it until it is melted through. Melted soap is very hot and should be handled with caution.