Things You'll Need
Wood

Marker

Transfer paper

Scroll saw

Carving knife

#220 grit sandpaper

Wood sealer

Paint

Brushes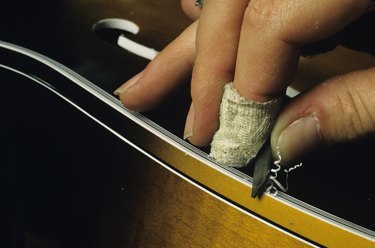 Carving wooden fish can be a relaxing hobby, a great activity for Camp Fire Girls & Boys or other scout organizations, or home business. The level of carving can be very basic-just the outline of a fish-with some wood burning, paint, or stain. Or the carving and painting can be as intricate as creating individual scales and painting the carved wooden fish to be incredibly realistic fine art. Try a simple project to test your skills at carving wooden fish and if you enjoy it, keep carving.
Step 1
Start with a a piece of wood that is 1 inch larger in length and width than the first wooden fish that you want to carve. 4-by- 6 inches or 4-by-8 inches are good sizes to start with to carve a small-medium wooden fish.
Step 2
Draw an outline of the fish from a side profile on the piece of wood with a marker. If you are not good at freehand drawings, use transfer paper and an enlarged clip art outline of a fish.
Step 3
Cut the wooden fish out with a scroll saw. This will create a very basic 2-D fish. If the piece of wood was 1 or 2 inches thick, this carved wooden fish will be able to stand on it's own. If you are teaching children, students, or young people how to carve and whittle-this is a great method to start them off with a partially carved wooden fish.
Step 4
Use a carving knife to carve and whittle down the blunt edges to give the wooden fish a more 3-dimensional realistic fish shape. You can chose to carve the entire fish or just one side.
Step 5
Sand the carved wooden fish smooth with #220 sandpaper. If you will be staining the carved wooden fish, do a meticulous job sanding the fish because any marks, lines, or nicks will cause the stain to penetrate differently.
Step 6
Stain the carved wooden fish or paint the carved wooden fish to complete your simple carved wooden fish project.
Tip
Fish carved on one side can have picture hangers attached to the flat side to make hanging easy. Select a soften wood for children to carve. Scroll saws will greatly decrease the total time needed to carve a wooden fish.
Warning
Don't use dull carving knives or tools. Dull knives can lead to injuries. Don't try to carve or whittle too much wood off at once, this can also lead to injuries or mistakes. Carve off thin shavings with each stroke.