Things You'll Need
1 quart fresh strawberries

Utility knife

Cutting board

Colander

4 cups granulated sugar

¾-cup water

1 package fruit pectin

Small saucepan

Large bowl

Potato masher

Spoon

Small plastic containers (with tight-fitting lids)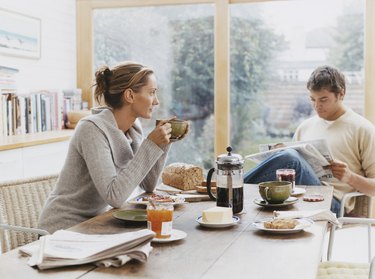 Homemade strawberry jam is one of those simple delights that you may not appreciate until you have savored it. Instead of purchasing ready-made strawberry jam, consider making your own strawberry jam and freezing it for future use. When you freeze strawberry jam instead of canning it, the process is surprisingly simple.
Step 1
Wash the strawberries thoroughly. Hull the berries by cutting out the tops. Slice each berry in half and place it into the large bowl.
Step 2
Add the sugar to the berries in the bowl. Use the potato masher to crush the berries slightly and incorporate the sugar and berries together. Allow the sugar and strawberries to sit for ten minutes in the bowl before proceeding.
Step 3
Measure the water into the saucepan. Open the fruit pectin and add it to the water in the saucepan. Place the saucepan onto the stovetop and set the burner to medium-high.
Step 4
Stir the water and pectin constantly and cook the ingredients until they boil. Boil the pectin and water for one minute and then remove from the heat.
Step 5
Pour the pectin mixture over the strawberries in the bowl. Stir the ingredients for three minutes. The stirring time is important to ensure the pectin incorporates fully with the fruit and will thicken satisfactorily.
Step 6
Pour the jam into the containers, leaving approximately 1 inch of free space at the tops of the containers. Seal the containers tightly.
Step 7
Leave the containers at room temperature for approximately eight hours.
Step 8
Place the containers into the freezer after the standing time. Freezer strawberry jam keeps up to one year in the freezer and approximately three weeks in the refrigerator.