Things You'll Need
For a 24-inch wide window, 36 to 45 inches long:

50-inch by 24-inch sheet of paper

Ruler

Pencil

Scissors

2 pieces of balsa wood that measure 24 inches by 1 inch by 1/4 inch

Double-sided tape

2 clothespins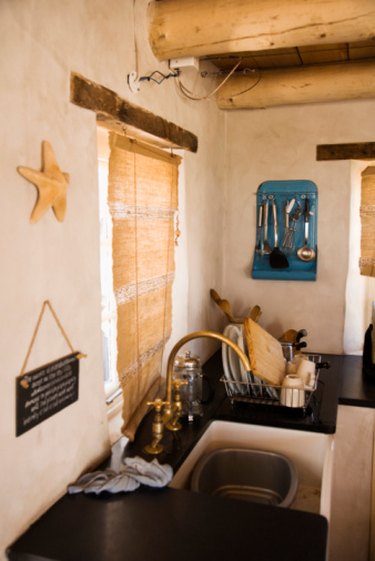 Paper blinds are an inexpensive and easy way to create a temporary window covering when you move into a new home or are in the midst of changing your decor. Paper blinds can also create privacy and reduce the amount of sunlight that enters a room. They are also the ideal window covering for minimalist-style decor. You can make paper blinds for an entire room in just one afternoon.
Step 1
Lay the sheet of paper flat on a table. Mark every inch on the two long sides of the paper with a small dot. The dot should be so small you can hardly see it.
Step 2
Using the pencil dots as guidelines, fold the paper accordion style, starting at the bottom.
Step 3
Cut three 24-inch pieces of double-sided tape.
Step 4
Put one piece of sticky tape on the bottom of the blind. Fold over once, so that one end is doubled paper.
Step 5
Fix the very top segment of the blind to one piece of the balsa using the sticky tape. Stick one piece of tape to the top of the window frame where the blind will hang. Place the blind in the window and let the blind fall down naturally.
Step 6
Raise the blind to your desired position and pin in place with clothespins.
Tip
Make sure the creases are sharp by running a ruler lightly along each crease. Adjust the measurements of the paper and dowel to make larger or smaller blinds. Large reels of paper can be found at office supply stores. For individual, large sheets, ask at your local Kinko's.
Warning
The adhesive will pull old paint off. If you don't want to risk removing paint along with the blind, consider screwing the wood into the window frame instead of using adhesive.