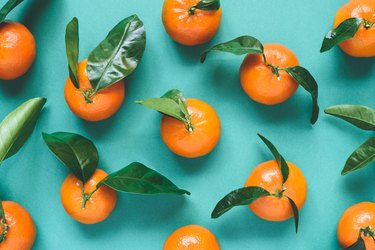 Anyone who dislikes using chemicals to keep insects and other pests out of their garden will appreciate the benefits that an oil pesticide can offer. These oils are safe and effective alternatives to synthetic insecticides and fungicides. This usage is nothing new, as people have been using oils as pesticides for centuries. Examples include mineral, plant and fish oils. Orange oil insecticide is one of the most popular ways to repel pests in a garden without harming the environment or the person applying it.
Orange pesticide made from the oil contains d-Limonene, a nerve toxin that kills aphids and insects within minutes. Fortunately, it is safe for humans; researchers have examined it and explain that d-Limonene is found in other citrus fruits and is widely used as a flavoring and fragrance additive in foods and cosmetics. Bugs don't like it at all, though.
You can mix store-bought orange essential oil with other ingredients, but there's an even easier and more straightforward way to make this pesticide. Peel a large number of oranges, place them in a large pot and cover them with water. Save the fruit to snack on later. Simmer the pot's contents for about 10 minutes, let it cool and then strain the liquid into another container. You now have a usable orange oil for your garden.
Your orange oil is ready to be incorporated into an effective insecticide, and you can find many recipes online for a DIY organic orange pesticide that also nourishes the roots of your plants. One example of an orange pesticide is combining 1 cup of compost tea, 1 ounce of molasses and 2 ounces of orange oil into 1 gallon of water. Shake well and pour this into a spray bottle. Spritz this onto the base of the stems and on the top and bottom of leaves.
The recipe for orange oil and molasses for fire ants is the same and can be poured directly onto ant mounds and other kinds of insect nests. This oil also kills termites, but the methodology is more involved. You would need to drill holes into infested wood and inject the orange oil into it. If this sounds disgusting or problematic, you are better off contacting a pest extermination company.
Other Uses for Orange Oil
If you prefer to buy a commercial orange oil, they are generally all-natural and biodegradable. You can find a 32-ounce bottle priced for under $30, and you can dilute its contents with water. To use it as a pesticide, add 2 ounces to a gallon of water and spray it onto plant foliage. Instead of spraying, you could pour the diluted orange oil right into the soil to kill mound-dwelling insects.
Orange oil is also an excellent natural household cleaner. Dilute the same amount with water and get to work. It is suitable for removing oil stains from driveways, for use on greasy range hoods and barbecues and for eliminating strong odors, like cat urine. The essential version of this oil may also be beneficial for you. Although the claims are not backed by scientific evidence, people who have used it claim that orange oil reduces stress, inflammation, pain and stomach upset and can help to cure acne.