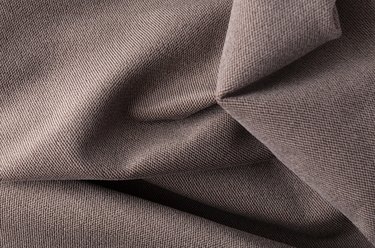 The word "chenille" sounds European because it is French for the word "caterpillar." This fabric is exceptionally soft and fuzzy, and whether you have a chenille sweater or a chenille bedspread, you will want to keep it looking and feeling delightful and supple. You wouldn't want to toss it in the washing machine and dryer without thinking twice because doing so could ruin it.
Chenille is made from either acrylic, polyester, olefin, silk, rayon or cotton yarn. One of these core fibers is wrapped with loose fibers. These fibers are then cut evenly, creating that desirable fuzzy texture that feels so nice against the skin. Chenille is also inexpensive when compared to other fabrics that feel similarly luxurious, such as suede or velvet.
You'll also find bathrobes, rugs, shawls and cushions made from chenille. When the product is new, you should be able to find a manufacturer's label on the item that tells you how to wash it. What if there's no tag, though? You wouldn't want to ruin your favorite chenille bedspread, sweater or cushion.
Spot-Cleaning a Chenille Bedspread
Unlike clothing, you probably don't wash your bedspreads after one use. If you're not careful, a chenille bedspread can shrink in the washer and dryer. You can clean spots with a pretreatment product, but you should make sure to use only a little bit to start. Otherwise, it takes a long time to remove the cleaning product from the fabric. Dab at the stain with a damp cloth until it comes out and keep dabbing at the pretreatment product until the stain is gone.
Washing a Chenille Bedspread
If the manufacturer's label shows that you can wash your chenille bedspread in warm water, this could be an option. These bedspreads often have fringe, though, and washing machines can tangle or damage this embellishment. The safest route is to hand-wash your chenille bedding. A chenille bedspread can be pretty large, especially if you have a king- or queen-size bed, so you may need to do this in a clean bathtub or laundry tub.
To thoroughly clean the bedspread and kill any allergens, try to use a water temperature of 130 degrees Fahrenheit and wear protective gloves to prevent scalding. Add a mild detergent and agitate the water with a long stick or something similar. Add the bedspread, agitate again and wait 10 to 15 minutes. Rinse well with cold water until there are no soap bubbles left.
The bedspread will be wet and heavy, so press out as much water as you can but don't wring it yet. Lay a large, dry towel on the floor, place the bedspread on top and cover it with a second clean towel. Press the towels against the chenille and allow several hours for drying. Roll it up and gently squeeze out the water. You may have to repeat this with a few more clean towels.
More TLC Tips for Chenille
Chenille takes a while to dry on its own. Once most of the moisture is out of the fabric, you can place it in your dryer for about 15 minutes on low. You should place sweaters inside clean pillowcases to protect them. Otherwise, you can lay them flat or hang them until they are completely dry.
If you put chenille in your dryer for too long or wash it in hot water, there's a good chance that it will shrink. Never wring out freshly washed chenille. You may be able to wash chenille blankets in the washing machine in cold water on a low spin cycle, but hand-washing has the lowest risk.