Things You'll Need
Wire brush

4-inch paint brush

1 1/4-inch paint roller

Paint scraper or painter's 5-in-1 tool

Broom

Dust Brush

Roller pan

Painter's extension pole

Caulk

Caulking gun

Ladder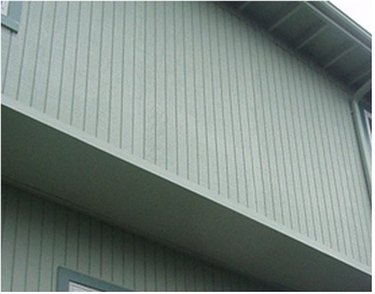 T-111 wood siding requires paint to provide an adequate barrier against moisture damage to your home. Cracks and imperfections abound in plywood-based siding such as T-111, and this makes painting more difficult then other siding types.
Painting T-111 takes time, but ensuring a proper coat of paint will make the siding last longer and reduce mold and mildew buildup in your home.
Step 1
Remove the dirt and loose paint from the face of the T-111 siding with the scraper. Scour each groove in the siding with the wire brush to remove loose paint and debris. Brush down the wall with the broom to remove the loose debris from the wall. Run the dust brush down each groove to make sure the groove is clean.
Step 2
Caulk around all areas that touch the T-111 siding. Inspect the siding for large cracks. Fill any large cracks with caulk. Smooth the caulk to even out the final appearance of the exterior wall. The caulk must be fully cured before you can continue to paint the wall.
Step 3
Cut in around each obstacle in the wall that is not going to be painted. Paint each groove with the 4-inch paint brush. Use an adequate amount of paint, as proper coverage is crucial. Paint the wall with the roller, starting at the top and working your way down the wall. Runs will form around the grooves of the T-111. Place the brush above the paint run and pull the brush down to spread out the runs around the grooves.
Step 4
Repaint the wall after the first coat has completely dried. Start with a second cutting in if required, and then reroll the face of the wall.
Step 5
Inspect the wall for deep cracks that were not filled by the first and second coats of paint. Repaint any areas that do not have a thick, even coat of paint.
Step 6
Clean the paint brush, roller and roller pan and set them aside. Let the paint dry for 24 hours and re-inspect the entire wall. Examine each groove, crack, and crevice---leave nothing out of your inspection.
Tip
Water-based latex paint will provide a long-lasting finish and is easier to clean up than oil-based paints.