Things You'll Need
Tape

Hooks

Decorative ornaments

Scissors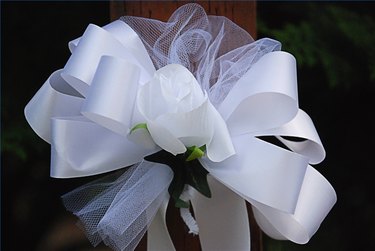 Tulle is a sheer fabric that adds a soft, decorative touch to parties and weddings. Tulle can be used on tables, chairs or even draped on the walls. Tulle is fluid, making it simple to manipulate, but if hung the wrong way, it may lose its charming and elegant touch. Whether it's for a party, a wedding or any other special occasion, find out the best way to hang tulle for a romantic effect without any special equipment.
Step 1
Use tape to mark where each section of tulle should be draped. Attach hooks to the walls if necessary for draping the tulle across. Keep the space between each section evenly spaced, and line up the sections with windows or rows of benches if they are present.
Step 2
Measure a piece of tulle long enough to stretch across the entire wall. Double this length since the tulle will be draped over the hook, or other holders, and hang down. This will add more length.
Step 3
Use tape or decorative ornaments to hold the tulle if hooks are not available. For example, evenly spaced windows provide the perfect place for attaching tulle. Use a heavy item, such as a candelabra, to hold the section of the tulle on the window frame and use tape to help it stick to the bottom of the candelabra.
Step 4
Start at one end of the wall and slowly pull the tulle over to the first hook or section where you will be hanging it. Allow the tulle to curve down in the middle. Drape the tulle lightly over the hook or attach to the wall as desired. If using tape, cover it with a decorative bow to hide it.
Step 5
Continue draping the tulle on to the next section. If the tulle is thick, twist the section that will go across the hook. After it is tightly twisted, place it over the hook and continue on.
Step 6
Trim away excess tulle after the entire piece has been stretched across the wall. If there is enough extra material, create small bows of tulle to place over hooks and hide them.