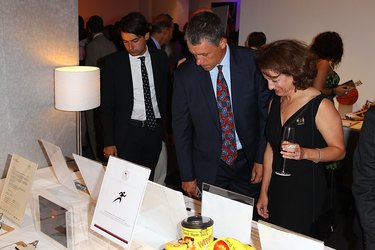 One of the most important factors in determining the success of a silent auction is to have either a large number of items available or a few high-end items that attract many bids, according to Joe Garecht, author of "The Silent Auction Handbook." Without one of these two, your silent auction will not raise as much revenue as possible.
Work with What You Have
The easiest way to obtain donations for your silent auction is to look in your own backyard; that is, determine what products and services members of your group can provide. Consider the interests, hobbies and professional accomplishments of everyone in your group. Perhaps a member is a chef who will provide a four-course meal, or a personal trainer or massage therapist who will donate 10 sessions. Provide as many options as possible.
Extend from Your Group's Circle
After you have exhausted all talents, items and abilities that exist inside the group, expand by looking to friends and relatives. Maybe a member is married to a pastry chef who will donate a dozen baked goods weekly for a month. Maybe someone knows the local grocer who will donate gift cards or baskets filled with goods. According to author Joe Garecht's website, The Fundraising Authority, people like to bid on items they cannot obtain elsewhere. If you have any inside connections -- perhaps someone who can provide a backstage tour of a concert hall -- use them.
Information for Local Businesses
Expand to the community to secure donations. Gather your volunteers and compile a list of all local businesses, such as restaurants, gyms, hotels, salons, museums, clothing retailers or jewelers. Divide the list based on location. Try as many businesses as possible to improve your chances of acquiring goods. Compose a fact sheet on your group's letterhead that your volunteers can distribute when they visit businesses. The fact sheet should include information on how your group will use the proceeds. Send your prepared fact sheet to local businesses, with a letter of explanation.
Hit the Town
Visiting businesses may help you obtain more donations. Divide your group into teams, and provide each with a list of establishments and copies of your fact sheet. During the visit, your representative should ask to speak to the owner or manager, and then briefly explain your purpose and ask for items or services the firm could donate. For businesses that don't make a commitment, leave your sheet and thank the owner or manager for his time.